An acclaimed artist has revealed how freedom to be creative during his study at Liverpool Hope University has helped him thrive in his career.
Fine Art graduate Ant Hamlyn, 27, left Hope in 2015 and has gone on to establish himself as one of the hottest young talents in the UK.
Predominantly a sculpture and installation artist, he's now experimenting more with painting while his work also merges disciplines like carpentry, metalworking, digital design manufacture, electronics and coding.
He's produced work for exhibitions at the Victoria and Albert Museum, Royal Academy of Arts and Saatchi Gallery, and enjoyed residencies at FACT (Foundation for Art and Creative Technology), The Red Mansion Foundation in Beijing and the Plop Residency in Holborn.
Having been mentioned in dispatches by world-leading fine art auctioneers Christie's, as well as contemporary art magazines Floorr and Neural this year also saw Ant featured in Aesthetica Magazine's annual Future Now 100 Artists of 2020 run-down.
And with his creations held in private collections across the globe, Northampton-born Ant says his time at Hope acted as a catalyst for him to really develop his style.
Ant, who went on to study for a Masters at Chelsea College of Art in 2017 and who has featured in Hope's Summer Showcase series, explains: "I always recommend Hope to other people because of the atmosphere. When I was there I felt like I was part of their family, particularly on the Creative Campus.
"It was so close and tight-knit. It was amazing.
"It creates an environment where an artist can experiment with their practice and feel confident doing it. It's supportive enough to be critical, but also exciting as well.
"And there's continuous support after you leave. Two of my course leaders came to London for my Masters degree show - some two and a half years after I'd left Hope.

"That sort of thing doesn't normally happen - and it nearly blew my head off when I saw them there!
"For me, that means a lot, and it also says a lot about the University."
Ant says he really began to find his feet in his second year at Hope, using old printer motors to create innovative 'sound sculptures' and wind chimes and being encouraged to constantly 'tinker' to create.
He adds: "And I think I've just tinkered my way up to now, really, being curious enough to just make stuff and do stuff.
"My lecturers at Hope seemed to know what was interesting about my work and pushed me to do more of it.
"I remember having a really interesting conversation with one of my tutors at Hope, who said, 'I like the position you're in right now because you don't quite know how to make these creations do certain things, but in 20 years you will know… and then you'll realise the exciting thing was not knowing'.
"I've always remembered that. I'll keep that."
The Covid-19 pandemic has also had a huge influence on Ant, as it has many other artists.
In particular, it's given him the impetus to pick up his paints, as he produced a striking series of pieces called Eyeball Pinball.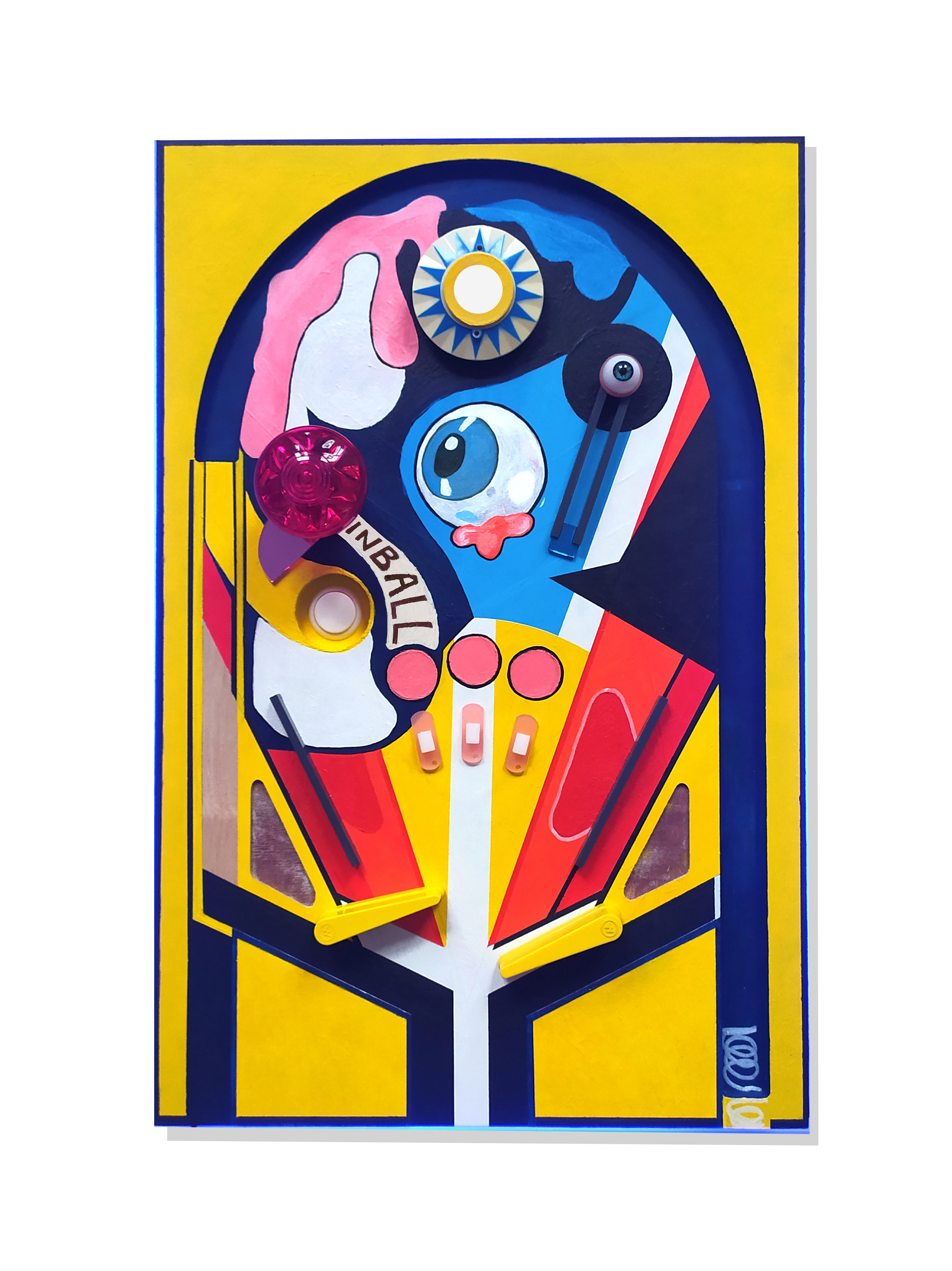 He reveals: "Throughout this period I've been able to develop my painting a lot more, which is something I don't know if I would have done if I wasn't working from home, and able to just sit and focus on a painting for a couple of weeks at a time.

"And Eyeball Pinball is my way of talking about how I was feeling during the pandemic.
"I felt trapped within the confines of a space - as if I was playing pinball, surrounded by this mad energy that can't go anywhere.
"During lockdown Instagram became hyper popular, too, as we were battered with visual images all of the time.
"As it became even more intense I came up with this idea where your eyes are just darting around everywhere - hence Eyeball Pinball.
"And making those paintings was my escape from reality, even though I was stuck in my own flat."
Ant has also built a large inflatable installation for a major restaurant chain in London, which is being kept a closely-guarded secret until it's unveiled in the not too distant future.
Meanwhile he's also used lockdown time for the greater good - producing a limited edition print for the Stroke Association, with half of the money generated from sales going directly to the charity.
It's an organisation close to his own heart, with his nana dealing with life after stroke .
And you can also see Ant at UK New Artists - a national, three-day festival due to take place in Leicester in February next year.
To see more of Ant's brilliant work, head here. And to learn more about the course he studied at Hope, go here.