Liverpool Hope University academic Dr Stephe Harrop has told of her 'delight' after she and a colleague won a prestigious research prize.
Dr Harrop is Subject Lead for Drama, Dance and Performance at Hope.
In 2018 she and Dr Zachary Dunbar, of the University of Melbourne, co-authored a well-received book examining ways in which modern actors could better interpret and perform ancient Greek tragedy.
That monograph has now been handed the Australasian Drama Studies Association (ADSA) Rob Jordan Prize for 'the best book on a theatre, drama or performance studies-related subject published in the previous two years'.
A citation from the judges - none less than Prof Jane Goodall, Prof David O'Donnell and Prof Maryrose Casey - reads: "This book presents a fresh and distinctive perspective on training the contemporary actor in interpreting Greek tragedy for performance.
"The book is beautifully structured, guiding the reader through a wealth of historical and contemporary theory through lucidly argued analysis, focused on staging aimed at performers, students and directors.
"The book features cogent critical perspectives, engaging with the difficulties of connecting works of the distant past with the lives of modern audiences."
The judges also added: "The elegant prose includes some vivid thick descriptions of contemporary productions of Greek tragedy. The argument is sophisticated and well informed and the purpose to act as a resource for contemporary practitioners is admirably served."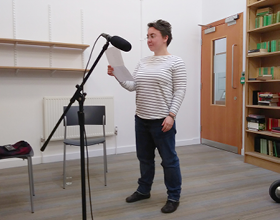 Earlier this year Dr Harrop also appeared in a multimedia e-book - released by The Archive of Performances of Greek and Roman Drama at the University of Oxford - called 'Agamemnon, a Performance History'.
In it she turned performer, playing the avenging queen Clytemnestra in John Studeley's 1566 translation of 'Agamemnon'.
Next week she's also premiering a new piece of digital storytelling, inspired by Phrynichus' lost Greek tragedy 'Alcestis', in an online event hosted by the Classical Association.
And speaking about their ADSA award win, Dr Harrop and Dr Dunbar said in a joint statement: "Zach and I are especially delighted that the judges have chosen to honour a monograph which combines theoretical and practice-based insights, while articulating vital new connections between historic and contemporary practices.
"We hope that this award will allow more practitioners and students to engage with our work, which actively seeks to promote a diverse range of creative responses to classical tragedy."
You can find more information about the ADSA Awards here: https://www.adsa.edu.au/dbpage.php?pg=honour