Liverpool Hope University's Students' Union is fighting for 'disability justice' - and this is how.
This week has seen the launch of UK Disability History Month 2021, which seeks to celebrate the lives of disabled people, to challenge ableism and historical oppression, and to achieve equality.
Running until the 18th December, some of the key themes being explored this year are 'Disability and Hidden Impairment' as well as 'Disability Sex and Relationships'.
Hope's Students' Union has thrown its weight behind the campaign, launching a series of events - including a webinar taking place on December 15th which gives staff and students the opportunity to discuss what Disability History Month (DHM) really means to them, as well as exploring what support the University offers.
As well as that online session, the Hope SU is also running a competition to design a new symbol for disability - one that represents just how diverse the disabled community is and which depicts more than simply a wheelchair.
Important work is also underway to produce a special guide for disabled students, signposting to Liverpool's most accessible institutions, including museums, sports teams, nightclubs and support groups.
Meanwhile staff and students are encouraged to explore the works of disabled pioneers by checking-out specially-curated books, podcasts, films and more.
That collection can be seen in display cases in the library while the list is also available on Moodle.
Stephanie Trujillo, Vice President Welfare & Community, says the Month shines a light on the 'history of disabled peoples' struggle for equality and human rights'.
She adds: "According to the World Health Organisation (WHO), disabled people are the largest minority across the globe, estimating that 1 billion people experience some form of disability during their lifetime. This shows us how important it is to work with the disabled community to create a more equitable future for all.
"While DHM has only been observed in the UK since 2010, the lived experiences of the disabled community at Hope are not new - including their triumphs and struggles for accessibility, inclusion and representation.
"In October, the SU gathered students, tutors and staff from different societies and departments to work together on creating our own DHM celebrations.
"We aim to enhance the visibility of the disabled community, including those with invisible or hidden disabilities, while we also aim to incorporate accessibility in our work by embracing the Social Model of Disability, which recognises that people are being disabled by physical and attitudinal barriers in society, not by an impairment or difference."
Stephanie would also like to thank students, tutors and library staff for their incredibly hard work in making all of the above happen. They include Lexe Vairy, the SU's Disability Student Representative, Natascha Paul, co-President of Disability Studies Society (DSS), Frantzeska Zerva, co-President of Disability Studies Society (DSS), and Abigail Lavers, President of the British Sign Language (BSL) Society.
Read on to find out more about the SU's Disability History Month activities: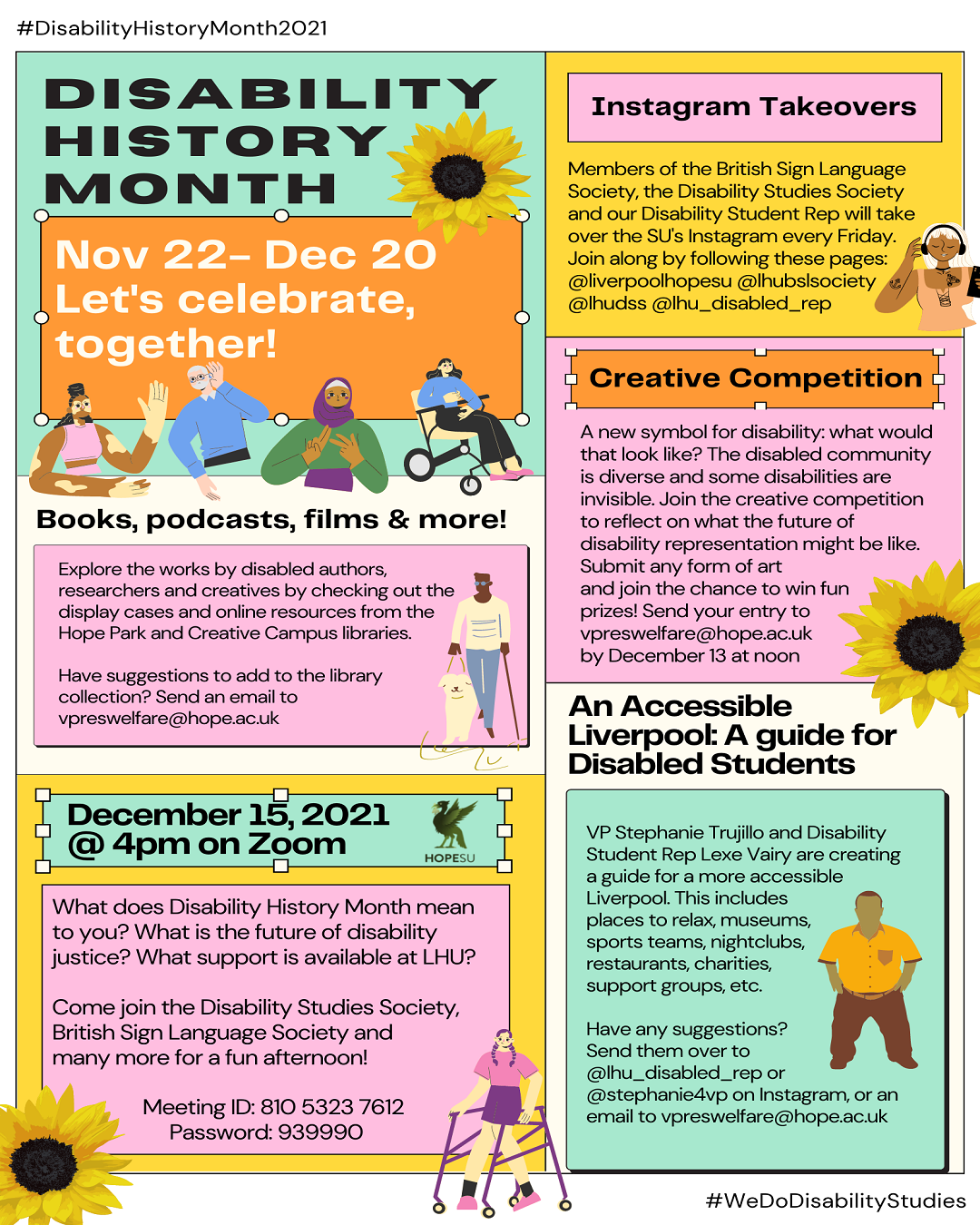 Special Disability History Month 2021 Webinar Event
What does Disability History Month mean to you? What is the future of disability justice? What support is available at LHU?
Come join the Disability Studies Society, British Sign Language Society and many more for a fun afternoon!
Via ZOOM:
Meeting ID: 810 5323 7612
Password: 939990
Creative Competition: Deadline December 13th, noon.
A new symbol for disability: what would that look like? The disabled community is diverse and some disabilities are invisible. Join the creative competition to reflect on what the future of disability representation might be like.
Submit any form of art and join the chance to win fun prizes! Send your entry to vpreswelfare@hope.ac.uk by December13 at noon.
A More Accessible Liverpool
VP Stephanie Trujillo and Disability Student Rep Lexe Vairy are creating a guide for a more accessible Liverpool. This includes places to relax, museums, sports teams, nightclubs, restaurants, charities, support groups, etc.
Have any suggestions? Send them over to:
@lhu_disabled_rep or @stephanie4vp on Instagram, or an email to vpreswelfare@hope.ac.uk
A Curated Collection (Students' Union building)
Explore the works by disabled authors, researchers and creatives by checking out the display cases and online resources from the Hope Park and Creative Campus libraries.
Have suggestions to add to the library collection? Send an email to vpreswelfare@hope.ac.uk
Instagram Takeovers
Members ofthe British Sign Language Society,the Disability Studies Society and our Disability Student Rep will take over the SU's Instagram every Friday.
Join along by following these pages:
@liverpoolhopesu @lhubslsociety
@lhudss @lhu_disabled_rep
** Visit a previous news story which explains how Hope's Centre for Culture and Disability Studies (CCDS) has made a number of influential seminars, books and journal articles available for anyone to utilise for the duration of the month.