The plight of Palestinian children living in the West Bank has been laid bare in a new exhibition depicting the young people's heart-rending artwork.
The collection, Hope and Resistance: Through Palestinian Children's Eyes, has been curated by academics at Liverpool Hope University.
The online gallery shows art created by children aged between 9 and 15 years old and attending two schools in the tumultuous border town of Tulkarm.
The young people were asked to respond to the question, 'What do you want to tell the world about being a young person living in Palestine?'
And their vivid depictions of tanks, soldiers, imprisoned family members and tears give voice to a group of people who should be heard, according to Tracy Ramsey, Professional Tutor in Youth and Community Work at Hope and who helped create the project.
She was part of a research team that included Hope academics Dr Kellie Thompson, Dr Steven Lucas, and Professor Michael Lavalette, all of the School of Social Science.
And Tracy says: "As a University, we've been travelling to Palestine since 2010 through student field trips, exploring through the visits important themes of social justice.
"And this exhibition is an evolution of those experiences.
"Academics can write about the conflict in journals but your typical person on the street won't read it. With this exhibition, we hope to engage with the general public while also connecting with young people.
"There's also a general silencing of the opinions of young people, not just in Palestine but across the world, which we wanted to address."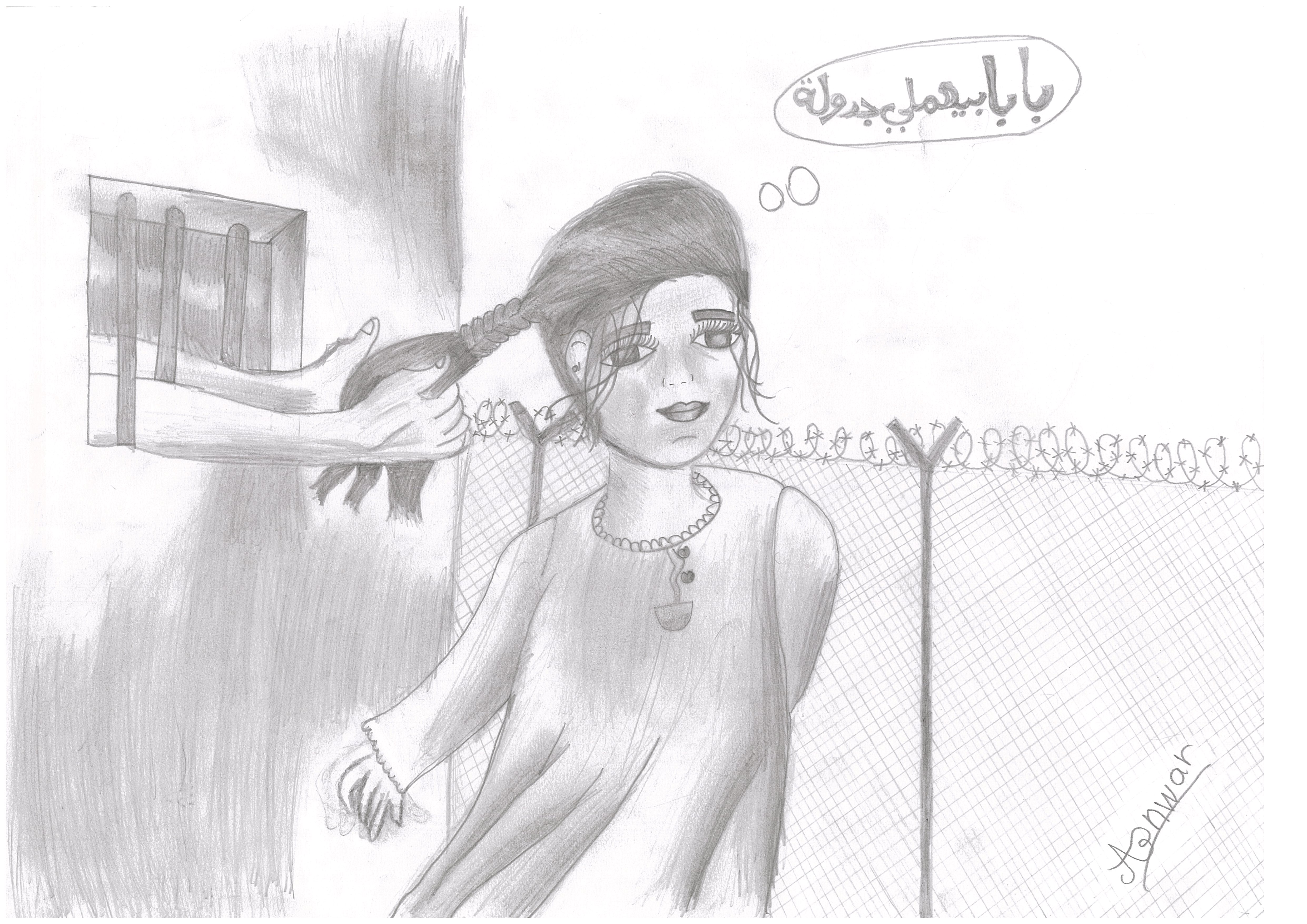 Tracy points out that the exhibition does not represent any entrenched political position with regard to the Palestine-Israel conflict.
Staff and students who have visited Palestine have been Christian, Muslim, Jewish and people of no faith, while Tracy says, 'as organisers we are opposed to all forms of racism, antisemitism and orientalism'.
She adds: "The occupation is clearly a very contested political situation and it's such a difficult thing to talk about it. We recognise that there is a fine line to walk.
"All we can do is try to be honest messengers, to present these unique voices, and to encourage people to look, question, and to read other resources so that they can forge their own opinion on the conflict."
One image, drawn by a 14 year old girl, shows her father plaiting her hair through the bars of his prison cell.
Another, drawn by an 8-year-old boy, depicts a smiling family harvesting olives while machines of war lurk menacingly in the background.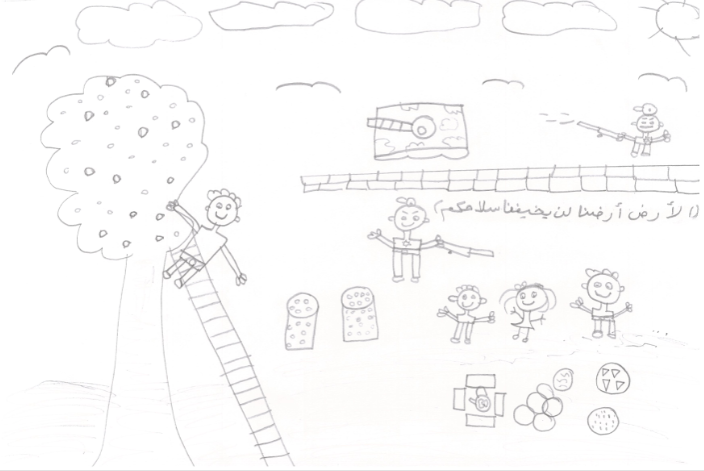 A disturbing drawing, created by a 9-year-old boy, appears to show a soldier in the foreground and bodies lying on the ground to the left.
For Steven Lucas, Lecturer in Social Work at Hope and co-organiser of the exhibition, the pictures are hard to view without feeling emotional.
He adds: "These are young people, just like your own kids.
"And yet they don't have the opportunity for what we'd consider a normal life. The images you see here are what they witness on a day-to-day basis. This is what their concerns are.
"And whatever your opinion of the conflict, what the children experience is not fair. Why do they have to be brought up carrying this burden?
"One of the things that struck me upon visiting the West Bank is that the kids placed a high value on education. They loved meeting people from other cultures.
"And so it's hard to look at these drawings and to not feel emotional, particularly the ones drawn by very young children.
"The youngsters are less invested in the global political dialogue about the West Bank. They can show us it is not complicated at all."
Hope plans to return to running field trips to Palestine when Covid-19 restrictions allow, while the exhibition's creators also want to work with UK schools - showing British children the Palestinian artwork while asking them to document their own reactions to it in a 'reciprocal call and response' project.
The exhibition itself has already seen a huge number of visitors - more than 12,000 since it went live at the end of 2020.