Liverpool Hope University is celebrating its first week of graduation ceremonies since the onset of the Covid-19 pandemic.
Graduates from both the Class of 2020 and the Class of 2021 had, up until now, not been able to don their caps and gowns to have their degrees conferred.
But this week will see eight graduation gatherings spread across three days at Liverpool's historic Metropolitan Cathedral.
And as the events got underway in earnest, some of Hope's remarkable graduates have been sharing their incredible journeys to success: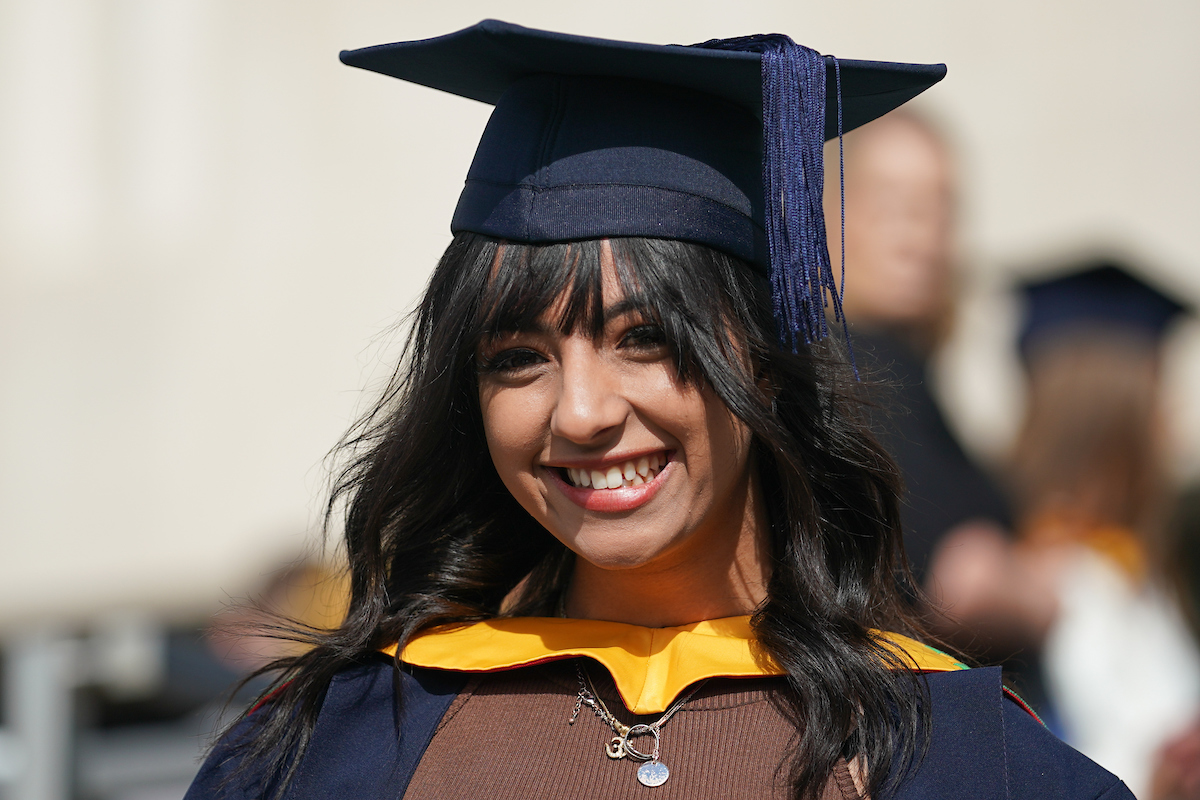 Rhea Sudan (Criminology and Social Policy, pictured above)
Talented Rhea, 22, is using the skills acquired at Hope to make a real difference to her local community.
Having graduated from Hope in the Class of 2020, she's now working for Surrey Police as a Diversity and Inclusion Officer.
She explains: "It's about trying to make a difference. I've been in the role for seven months now and it involves building relationships - and also trust - within our communities, making sure we're progressing people already in the organisation through their careers, making sure the way we recruit means we've got a diverse pool of individuals, and also making sure we're promoting inclusion culture within Surrey Police."
Rhea's dissertation focused on the underrepresentation of women and BAME police officers in England and Wales.
And she says having a 'brilliant' relationship with her dissertation supervisor at Hope made all the difference. She adds: "I was able to find my passion, and I was given the right foundations to be able to achieve what I wanted to do. I think it's helped me enormously in my career journey."
Megan Hindley (Drama)
Wirral-born Megan left Hope in the summer of 2020 before completing a Master's in acting at the prestigious Liverpool Institute of Performing Arts (LIPA).
And having already co-written a play, and secured a job as an Audience Experience Supervisor at the Liverpool Everyman & Playhouse, she's got high hopes for the future.
The 22-year-old reveals: "The role is about putting customer service and theatre together.
"And for me, it's also a brilliant way to network in order to spread word about the play we've written, as well as furthering my career as a performer."
The play itself - Three Folks In a Boat - is a subtle twist on Jerome K. Jerome's famous comic novel Three Men in a Boat.
While the original is about three men from the South of England, Megan's play is about three women from the North of England, and about how everything goes wrong on their adventure!
Megan says: "It's about friendship, the championing of women, and explores how we're all in search of something, when what we really need might be right under our noses."
Megan's time at Hope was also transformative.
She explains: "I'll be honest, when I first came to Hope I wasn't sure whether or not I wanted to be at university at all. But the minute I began, I knew this was where I was meant to be. It made me realise that this is what I want to do.
"The Creative Campus was also this brilliant little bubble of energy."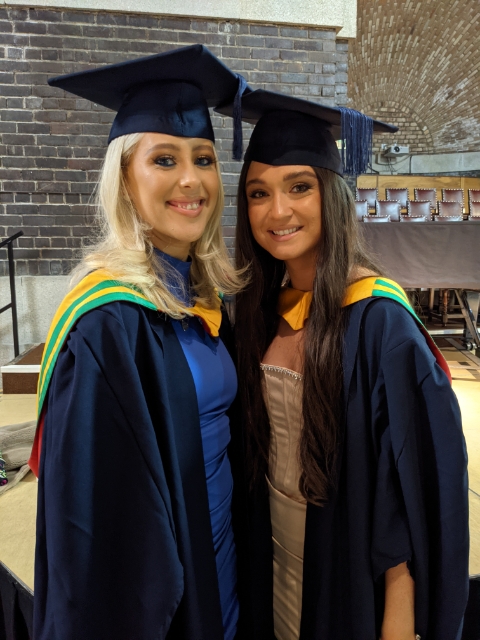 (Megan and Olivia Baccino pictured above)
Olivia Baccino (Drama and Dance)
After studying as an undergraduate, Olivia went on to complete a PGDE (Professional Graduate Diploma in Education) at Hope.
Having enjoyed various placements teaching performing arts at BTEC, she's now hoping to land a teaching position.
But the 22-year-old is also having to juggle a thriving business she launched while at Hope - called 'When You Wish' Entertainment - and which took off in a big way through the pandemic.
It sees her hosting children's parties while dressed as the youngsters' favourite characters - particularly the sisters from Disney movie Frozen.
She reveals: "It began as a hobby, but since lockdown, the business really blew up. I've now got people working for me, too.
"And while 'When You Wish' takes up a lot of my time, I still love teaching and I'm actively looking for a role at a college.
"I use lots of the things that I learned at Hope to run the business, too. I have to sing at the parties, and because I love to teach I've also launched baby ballet classes, run by ballerina versions of the Disney princesses. And because the children are only 18 months to four years old, they genuinely think an amazing princess is their teacher! It's great fun and the kids are really engaged."
Olivia, from Liverpool, adds: "I loved my time at Hope. Everyone knows each other at the Creative Campus, and that's what I love about it. Everyone will stop and talk to you and everyone supports each other's work. They'll go out of their way to watch what you've created."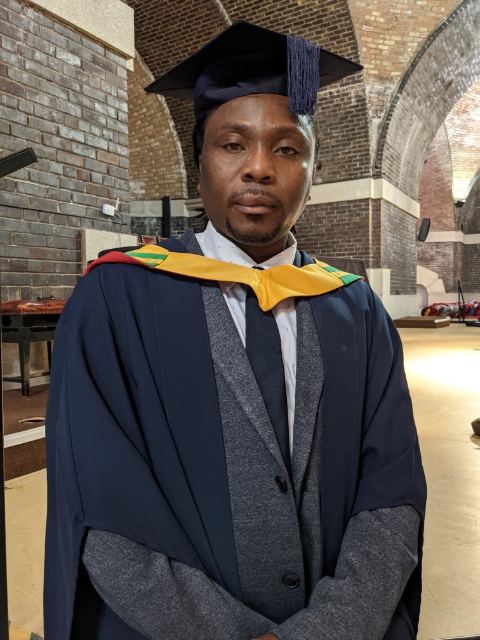 Paul Mwale (Childhood & Youth and Social Policy, pictured above)
Mature student Paul, 38, spent years working in various jobs, including construction. But uncertainty in the construction industry caused by Brexit made Paul stop and reconsider his career.
As a father of two, he craved something more 'secure' - and soon found himself at Hope.
He said: "I was working zero hours contracts and it dawned on me that I needed something more, and that the best thing to do was to come back to education.
"Coming back at my age is obviously difficult. But as a mature student coming to Hope, having been away from education, I was honestly made to feel welcome from the first day I arrived."
Paul is now studying for a Master's in Social Work - and there's a reason he's ended up on this career pathway.
He said: "Some of the experiences I've had in my life, and some of the things I've gone through, have not been easy. Some kind people always helped me out in difficult situations and I feel like I can now give something back to society as well."
Giving advice to other mature students who might be toying with the idea of joining university, Paul adds: "If you feel like you're getting older and you can't do it, I'd say there's always time. And everyone here at Hope is here to help you."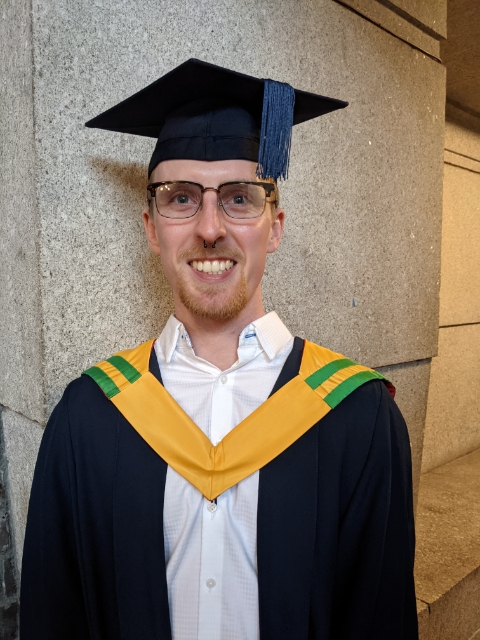 Tom Marsh (Criminology, pictured above)
Proud Tom graduated with a first class honours degree in Criminology from Hope before completing a Master's in his home county Northumbria.
And the 23-year-old, from Morpeth, has now set his sights on a career working with Europol - the European Union's law enforcement agency.
He reveals: "There's rigorous testing involved when it comes to applying to Europol. But with two degrees, I feel like I now have a realistic chance of getting in.
"And I really enjoyed my time at Hope. I made a lot of friends here and had a real university experience. The campus was big enough to enjoy large lectures but also small enough to be able to navigate easily."
Tom's dissertation delved into the murky world of multi-level marketing, exploring the ethics behind it and whether it could be considered a 'Pyramid Scheme'.
He adds: "It was genuinely a lot of fun writing it - and I never thought I'd have so much fun writing a dissertation!"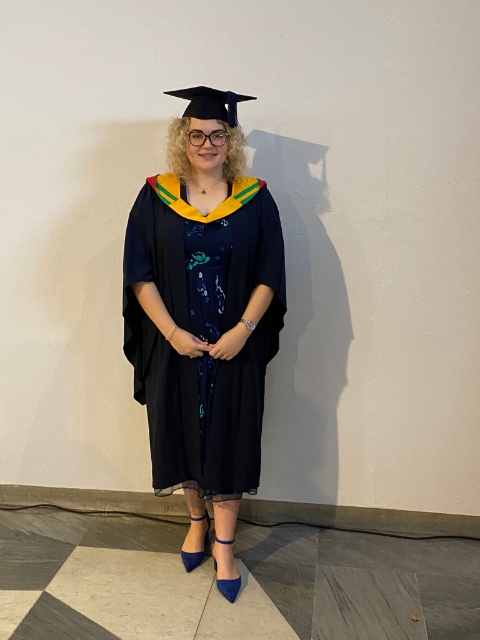 Holly Lewtas (English Language, pictured above)
Graduate Holly Lewtas has credited the 'nurturing' atmosphere at Hope for helping her to achieve her potential.
The 23-year-old studied English Language and has emerged with a prestigious first-class degree,
And as she prepares to undertake a Legal Practice Course and a Master of Laws, she's described how the Hope community helped to shape her success.
Holly, from Liverpool, reveals: "Liverpool Hope University is a special kind of university in that it nurtures students and helps them to reach their full potential.
"Going to university can be overwhelming, but Hope has a friendly atmosphere and not once did I feel like just another student within a large institution.
"The pastoral care at the university is astounding and student well-being is a university-wide priority, extending from the Learning Support Team to the tutors.
"Each of my tutors had a genuine passion for the subject as well as teaching itself. They were never too busy to stop for a chat and I thought of them more as allies when it came to my education; we both wanted me to succeed.
"And despite finishing my degree in the midst of a pandemic, my tutors supported me throughout and were instrumental in my achievement of a first-class degree."