Hundreds of jubilant Hope students donned their caps and gowns for this year's Winter Graduation ceremony.
Graduands and their proud family members gathered at Liverpool Metropolitan Cathedral of Christ the King for the annual event.
Students were receiving Masters, PhDs, Postgraduate Certificates, and Bachelor degrees.
And many were able to detail their exciting journeys to get to this point.
Stephanie Hooper, a 40-year-old mother of three, completed a BA (Hons) in Social Work.
For Stephanie, from Helsby, Cheshire, it was the culmination of six years of hard work, having previously left school with no GCSE qualifications.
The former teaching assistant, who's now already landed a permanent position at Cheshire West and Chester Council, says: "Social Work was always something I've been passionate about from a really young age.
"And having worked various jobs to fit around my kids, I made the 'now or never' decision to just go for it.
"It was a tough call. I didn't have any GCSEs when I left school so I had to do all that before my degree. It's been six years in the making so today is something of a prominent day."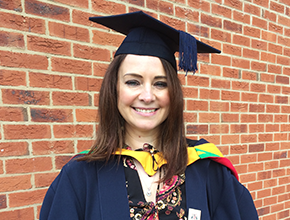 Stephanie Hooper, above
Karima Enajah, a 39-year-old mum of five originally from Libya, has just completed an MA in Education.
And she hopes to open her own teaching establishment abroad.
Karima, a former teaching assistant at Roscoe Primary School, Tuebrook, reveals: "Before all of this, I was simply raising my family. But they all grew up and I thought, 'It's now my turn to come back'.
"My long term goal is to one day open my own teaching college abroad.
"I'm from Libya and education there is not good. There's no form of teacher training - and that's something I want to change.
"Right now, I'm working to get experience to go alongside my education."
Ambitious Karima is already progressing rapidly - currently teaching in Turkey at the Istanbul American Schools (IAS).
Meanwhile Nifa Sellors, 21, successfully completed a BSc (Hons) degree in Psychology - having made her way to Liverpool from her home in Gibraltar.
Nifa, now studying for a Masters in Applied Clinical Psychology at the University of Bath, praised Hope for its tight-knit campus and sense of community.
She explained: "The minute I got here, people were so friendly. All of the lecturers know who you are and make sure you're okay.
"And from speaking to friends who've gone to other universities, there's always a risk that you can become lost in the crowd.
"But coming here to Hope, there's a much more personal, community feeling. I've made some really good friends here and I really enjoyed my course."
Away from her academic life, Nifa was on the committee for the cheerleading team, acting as their fundraiser, while also being on the cheer team herself.
She reveals: "Cheerleading at Hope was so much fun.
"Everyone was super nice and people just gave it a go. You didn't need to be an Olympic gymnast beforehand!"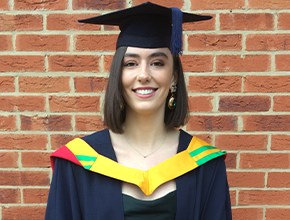 Nifa Sellors, above
The Winter Graduation ceremony itself saw Hope's Vice Chancellor Professor Gerald Pillay welcoming all graduands into the Hope fold, forever.
He added: "Not only should you be proud for completing your exams, you're now a worthy member of this University."
Meanwhile the event also saw Archbishop of York Dr John Sentamu awarded an honorary doctorate from Liverpool Hope University.
He was recognised with an Honorary Doctor of Divinity for his leadership of the Church in the North of England, and commented: "I have been greatly honoured by the University."