A Hope graduate is celebrating the publication of his debut novel - and has revealed how the University forms part of the plotline.
Mike Rickett joined Liverpool Hope University as a mature student in 2009, initially studying for a BA in Fine Art before going on to complete a Masters in Creative Practice.
As a former newspaper journalist and PR executive, the 77-year-old is no stranger to the written word.
And dad of two Mike, 77, has now turned his craft to a genre-bending work of fiction - called The Poseidon Files.
The plot of the book centres on a secretive government agency's attempts to weaponise the weather, and incorporates elements of thriller, espionage, conspiracy and even supernatural narratives.
Meanwhile Mike, from Mossley Hill, south Liverpool, says that while the action spans the globe, his readers learn how lead character 'Naomi' actually studied at Hope.
Naomi is actually based on Mike's own grandmother, Ann Rickett, a woman who was something of a psychic and mystic, reading the tea leaves for family and friends and often being right about what she predicted.
Mike, who's written for Reuters, the Daily Mail, and who retired from Liverpool's Daily Post in 2009, explains: "When it comes to producing a successful novel, you have to have two things. One is a plot, obviously, the other is a good central character.
"I knew my grandmother as a white-haired, kindly old lady.
"But she always had something about her. There was something slightly magnetic about her eyes… and I was always slightly scared of her in a way.
"My character Naomi is based on Ann. And readers seem to really engage with her.
"In the book Naomi also talks about her art degree from Liverpool Hope University. It's a nice nod to my own past and a thank you to the University."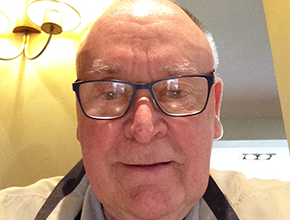 The book itself was a four year labour of love, beginning in 2016.
And it's actually based on real-world events.
It concerns the US Military's 'High Frequency Active Auroral Research Program', or HAARP, a vast research facility located in Gakona, Alaska.
On the face of it, HAARP's purpose is to study and understand the physics of the ionosphere, a region of Earth's upper atmosphere, largely through use of a high-powered radio frequency transmitter.
But HAARP has also long been a draw for conspiracy theorists who claim HAARP could be seeking to harness the power of the weather.
Mike explains: "Being a journalist, I began by looking at a host of conspiracy theories. One I found related to HAARP in Alaska.
"Ostensibly the project was meant to study Earth's upper atmosphere, but quite a few scientists believe HAARP was actually trying to weaponise the weather.
"There were all sorts of reports of green rain, and even green lightning. It's been shrouded in suspicion.
"In my novel, Naomi is accidentally drawn into the plot when a whistle-blowing scientist - George Parry - travels from Alaska to Liverpool intending to give secret files to the press."
While the book itself only took around nine months to physically write but it came on the back of extensive and exhaustive research.
Meanwhile Mike has advice for any other Hope students or graduates seeking to make their own novels come to life.
He adds: "It's hard work. Nobody should approach it lightly.
"And it's not just the writing. Finishing the novel is actually just the beginning of the process, as you then need to think about formatting, proofreading, either finding a publisher or going down the self-publishing route, and also about marketing.
"The first draft is also just that - the first draft. You need an editor to knock it into shape. And it's a rewrite after that.
"And for me, characterisation is 60 per cent of the story, the plot is the other 40 per cent.
"You need to live through the characters, you have to know them inside out and really understand how they think and they feel. It's so important."
The process hasn't put Mike off.
He's already written a second book, a murder mystery Kill Joy, which is due to published either later this year or early next.
To find out more about Mike's work, head here.