Staff at Liverpool Hope University have revealed how they're doing their bit for the community in the face of the Covid-19 crisis.
As a University, Hope has been working hard behind the scenes to help NHS staff, providing free Personal Protective Equipment (PPE), free accommodation for hospital workers, and gifting hand cream to nurses.
Now Catherine Harvey, Director of Student Enrolment, has told how she's knitting for the NHS - and encouraging other members of staff to do the same.
Frontline workers forced to wear virus-repelling face masks have been reporting how the items chafe the skin, particularly around the ears.
But Catherine has now been creating woolen 'sore ear savers' - so that face masks can be fastened behind the head rather than around the ears, reducing discomfort.
And both she and other Hope employees with a basic knowledge of crochet or knitting have launched a scheme to gift the ear savers to NHS units who might need them.
Catherine explains: "I knew I wanted to help the NHS in some way, so when I saw a request from a local hospital for people to knit 'sore ear savers', I jumped at the chance.
"Some NHS staff are wearing face masks for 12 hours a day. My brother, a nurse, told me that on some days he can't even bear to put on his glasses because his ears are so sore.
"It's a small gesture on my part, but my little supply of ear savers has now gone to wards in Alder Hey, Whiston, and Walton Neurological hospitals, as well as my local district nurses.
"The knitting needles are still busy each evening and it is a privilege to play a small part in this huge community operation.
"And, for me, it embodies what the Hope community spirit is all about."
If you fancy getting involved yourself, you can download a crochet, knitting and sewing pattern for free here.
When it comes to donating them to units, you should ensure they're placed in a sealable bag, with the date clearly marked. They should then be left in the bag for 72 hours to ensure they're virus free, before being opened and used.
Meanwhile other Hope staff are also doing their bit to lift the mood.
Lisa Mottram in Personnel has been making face masks for family and friends - complete with a pocket to put a disposable filter. You can see some pictures of those here.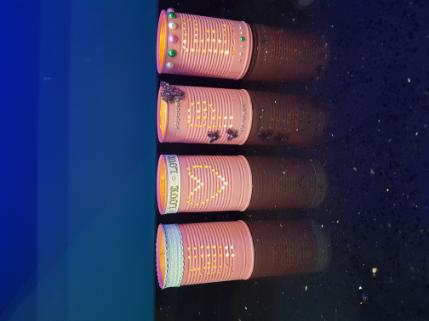 Tammy Buckland, Conference Manager, has been recycling old tin cans with her children - and transforming them into inspirational 'Hope' tea light holders.
Sharing the images with other staff members, she adds: "My little ones are proud that we're helping the environment - and I thought it was very fitting that this small gesture might inspire a little 'Hope' in others.
"The tea light holders are a simple reminder of the loved ones we're all missing right now, and perhaps a light in the dark amidst all the grim news we're receiving."
Much more information on Hope volunteering schemes can be accessed through the COVID-19 Volunteering web page, which includes details of how you can get involved, too.