Liverpool Hope University has been named among the UK's Top 10 best universities for students from India - bagging a magazine front cover in the process.
The publication Academic Insights is an independent mag based in Bangalore, India, and which sets out to 'empower and promote quality education' across the globe.
In its latest issue, Hope features prominently - with Vice Chancellor and Rector Professor Gerald Pillay featured on page 1 - as the University is included in a feature on the 'UK's Best 10 Universities & Institutions for Indian Students'.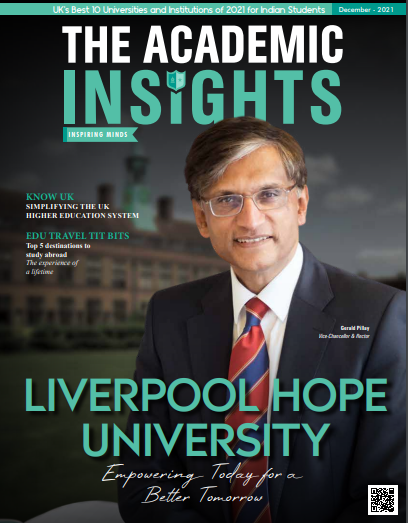 The article states: "We strongly believe that going through the institutes that we have featured here, Indian Students back home might find their new calling, working in the direction of achieving a productive and a blissful future ahead of them.
"Whether they envision starting their own entrepreneurial journey or get a foot into professional life, the institutes that have been listed here promise to provide everything a budding education aspirant of the 21st century needs, in and out."
Hope sits alongside other UK institutions such as the prestigious London School of Economics and Cardiff University.
The story focuses on how Hope has a dedicated 'International Hub' to ensure students from overseas get settled in their studies with minimal fuss, while also receiving mentoring and guidance should they need it.
Meanwhile Dr. Wendy Bignold, the Associate Dean, International, at Hope, tells the authors: "With staff from over 35 countries serving at the University, we are well-placed to provide such insights to help scholars adjust to their new learning environment."
Hope's links to international institutions across the world are also highlighted in the piece, partnerships that 'facilitate the exchange of best practice in both directions'.
And the feature concludes: "Liverpool Hope University, a renowned institution, has been working rigorously, day in and day out, to welcome global talent, especially students from India, helping and supporting them to become the capable professionals of tomorrow.
"Liverpool Hope University, is a ray of hope for budding educational aspirants looking for a once-in-a-lifetime opportunity to excel."
The full article is available to read on the Academic Insights magazine website.