A unique new conservation guide co-written by a Liverpool Hope University academic could help protect precious coastal dune landscapes across the world.
The Sand Dune Managers Handbook has been published as a free-to-download manual for anyone involved with the management and conservation of sand dunes.
Hope's Revd Paul Rooney, Head of Geography & Environmental Science, was a key contributor, and the handbook covers everything from how to handle invasive species and erosion caused by tourism, to managing animals that graze the landscape as well as how to risk-assess unexploded ordnance that might be buried in the sand.
Revd Rooney and his colleagues write: "Coastal sand dunes are found around the world and support a high level of biodiversity, including many threatened plant, insect and animal species.
"These dynamic ecosystems are shaped by four key elements: sand, wind, water and vegetation. As sand is the basic material dunes are made of; wind speeds need to be fast enough to pick up the sand grains and move them; groundwater near the soil surface is necessary for dune wetlands to form; plants themselves are the fourth agent, which helps create different types of dune. Together, these forces shape dune landforms and the plant and animals that live in the dune system.
"Unfortunately, dynamic dune systems with naturally blowing sand no longer occur across most of the UK and north-west Europe. Most dune systems now consist of stabilised dune landforms covered in vegetation. This has resulted in loss of habitat and a decline in many rare species.
"Fortunately, there are a wide range of dune management options available to address these issues. This handbook aims to keep our management techniques up to date for the needs of dune conservation in a variety of situations."
The other authors of the Handbook are Professor Laurence Jones, a Visiting Professor in the the Department of Geography and Environmental Science at Hope, and ecologist Dr Jennifer Rhymes, a former postdoctoral researcher at Hope.
Meanwhile the book itself was commissioned thanks to an impressive partnership of conservation organisations - including the UK Centre for Ecology & Hydrology and Natural England - through the £10m 'Dynamic Dunescapes' project.
Revd Rooney stresses the importance of the Handbook being free to anyone who needs it - ensuring the important guidance gets maximum exposure.
He adds: "This handbook is purposely free to download so that it reaches out to in an accessible form to those involved with the management and conservation of coastal dunes in the UK, across Europe and globally.
"And it's not just limited to nature reserves, but covers any coastal dune landscape, including coastal dune golf courses, known as 'links', of which there are around 130 on the British Isles."
When it comes to these 'links' golf courses, Revd Rooney has been a vocal protector of these special locations.
In February last year he supported Scottish Ministers in their 'landmark decision' to refuse planning permission for a planned 18-hole 'Coul Links' golf course, located near Embo, near Dornoch, labelling it a victory for 'common sense'.
The scheme was first unveiled in December 2015 by the Highland Council, before a public inquiry into the development was launched in February 2019.
Revd Rooney led expert evidence on behalf of Scottish Natural Heritage (SNH) at the inquiry and said the negative impacts of the proposal far outweighed the benefits.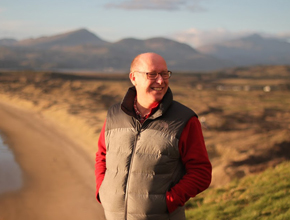 He said: "The decision by Scottish Ministers is a landmark decision that recognises the importance of the natural environment in national planning policy.
"While the development would have resulted in limited social and economic benefits, the significant adverse environmental impacts far outweighed these benefits.
"It is a decision for common sense and one that recognises the importance of conserving our natural environment for both people and nature."
Revd Rooney is an international authority on the ecology and management of coastal dunes and also directs the UK Sand Dune Network, based at Hope.
Pointing out that not all links golf courses have a negative impact, he adds: "In many places golf has provided a 'full stop' to ruinous development in the coastal dune environment.
"There are many dune links courses in the British Isles and they play an important role in the conservation of open dynamic landscapes that are cherished by people and are important for wildlife. Golf can be a responsible steward of these important resources.
"The proposal to develop a course at Coul Links did not contribute to golf's sustainability and environmental credentials. Its refusal demonstrates a good decision for golf".
** Download a PDF of the Sand Dune Managers Handbook.