A Liverpool Hope University graduate is inspiring the next generation of performing arts stars through her work as a dance teacher.
Ruth Spitzlei studied Dance and Nutrition at Hope, graduating in 2019.
And since returning to her native Cologne, Germany, Ruth is using her expertise to teach people from all walks of life - whether they're three or 60 years old.
The 22-year-old, who specialises in contemporary dance, teaches at the Tanzwerkstatt Bensberg school in picturesque Bergisch Gladbach, located to the east of Cologne.
Ruth, who was crowned Hope's Dancer of the Year in 2018, says: "When I was at University I didn't think I'd go into teaching.
"But it's a really rewarding role and I'm enjoying it much more than I perhaps thought I would.
"The best thing about it is that the people I teach range in age from three to 60. I can teach everyone!
"There's a lot of preparation that goes into catering for all of those varied groups, as my day progresses from the little ones to the adults in the evening.
"And for me, the group I love teaching the most are the teenage girls, aged 15, 16. They're always challenging sessions - and I really like that.
"I don't need easy people!"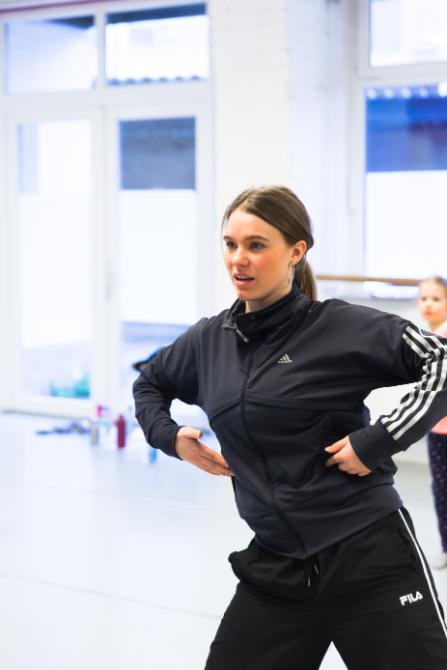 (Photo credit: Sabine Große-Wortmann)
Ruth's own personal progression saw her move from ballet initially into modern dance and hip hop.
Aged 16 she joined the prestigious Cologne Dance Center, taking up a two year scholarship, training six hours a day and gaining true insight into the technicalities of her profession.
And she ultimately ended up at Hope because of the unique nature of the course - with 'Dance' and 'Nutrition' representing two very different disciplines.
She explains: "The combination of dance and nutrition was one of the main reasons I chose Hope.
"I'm an artistic person but I also like the sciences.
"And for me it was a type of career safety net because it didn't narrow down my options too much.
"You also have lots of choices within University, too, such as being able to write two different dissertations or simply combine both disciplines into one.
"I can also use nutrition in my dance classes. Sometimes you'll see a student coming in with a can of Coke, and you can talk to them about why that might not be a good idea.
"And ultimately the more knowledge you have, the more you can draw on when you teach."
In the end, Ruth - who taught classes in care homes as part of Hope's community dance porject - compared the nutritional intake of two very different groups of dancers for her own dissertation.
And her decision to join Hope is eye catching when you consider university tuition is essentially free, except for a very small annual fee, in Germany.
Meanwhile Ruth hasn't turned her back on the stage, either, and will resume auditioning for roles as soon as the Covid-19 pandemic allows.
She adds: "Dance is a tough business.
"But for me personally I know I have to try it. I have colleagues who are ten years older than me who keep telling me to keep auditioning while I'm in my twenties.
"Teaching is something I can do for the rest of my life. But dancing on stage is something I have to try now."
Ruth hasn't severed ties with Liverpool.
She's part of the Merseyside Dance Initiative (MDI), which offers crucial free studio space to those who need it.
Ruth reveals: "I'm part of the MDI's Talent Hub programme, even though I'm not North West based, and I'm really grateful to be involved.
"Studio hire can be really expensive so this initiative is vital for people like me who might need space to teach or perform.
"And if I can come back once I'm allowed to travel again, I'll be returning to Liverpool to work with the MDI once more."
You can see some of Ruth's exceptional work here.
And details of her Dance and Nutrition Course can be found here.