A performance psychologist and recent Liverpool Hope University graduate has lifted the lid on how footballers are being prepared for post-lockdown match action.
Sport Psychology student James Maiden studied for almost four years at Hope, graduating in 2017 before going on to complete five months as a Sport Psychology Research Assistant.
Now James is working as a performance psychologist with both Southampton Women's FC and National League side Eastleigh FC.
And the 23-year-old has revealed how the Covid-19 sporting shutdown hasposed unique challenges for sports psychologists across the UK.
Speaking as England's Premier League is poised to return on June 17, he says: "The restart is likely to create lots of individualistic problems.
"Some players have talked openly in the media about how they draw energy from the crowd. If you need that to perform well, then a lack of spectators could prove a real challenge.
"And the Coronavirus pandemic is also prompting lots of new research into sport psychology across the board.
"What's the impact on athletes with the Olympic Games not going ahead? How do you combat the loss of identity when you're no longer an athlete or professional footballer?
"In some ways Covid-19 will force the emergence of brand new ways of thinking about sport psychology in general."
After leaving Hope, James completed a Masters in Sport & Exercise Psychology at Loughborough University, graduating late last year.
During his time at Loughborough James also worked with national and international standard badminton players through his role as performance psychology support for the elite Loughborough University badminton squad.
James is now on a pathway to becoming a fully qualified sport psychologist - and is set to complete two years of professional 'Stage 2' assessments, as set by the British Psychological Society (BPS).
His work with Southampton Women's FC has been particularly illuminating.
The side play in the Division One South West - the fourth tier in the women's football league pyramid in England.
Their season was frustratingly voided due to Coronavirus, with Southampton Women's FC sitting second in the league - well-placed for promotion, four points clear of third-placed Exeter City.
Now for James, it's his job to support players through that disappointment - and crucially to focus their minds on next season instead.
He says: "For me, it's not really about picking players up as the players understand the situation is out of their control, it's about treating the situation as a clean slate and using it as an opportunity to develop.
"As a team, we were obviously disappointed about how the season has finished. But we're a relatively new side and we're determined to build on what we achieved this season and really go for it next season."
Southampton Women's FC use of a dedicated performance psychologist is unusual at this level of the women's game - but very welcome. James says it could be crucial when it comes to those all-important 'marginal gains'.
Sessions have successfully moved online, delivering one-on-one conversations and group chats.
James - who played for AFC Stoneham and also captained Hope University's Badminton team - adds: "At Southampton's Women's we analysed what we did wrong last year and discussed what changes and improvements we can make to become more consistent, while developing new ideas and techniques.
"One of the key changes we have implemented is developing and encouraging input from the players to devise individual development plans.
"It's a real 'club' approach, we've got input from the reserves and development teams on how the senior sides could and should develop next year. From a personal point of view, the commitment and engagement from all levels is really exciting."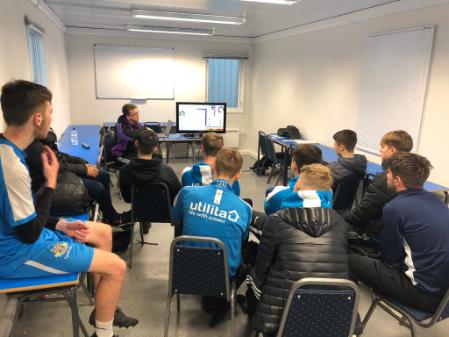 James, from Winchester, Hampshire, also recognises that there are bigger issues right now other than just sport.
He explains: "Talking about football with players is obviously important but we also need to think about their mental health.
"I've tried to strip it back from a performance focus, often just asking, 'How are you getting on? Are you okay?', being there, offering a "listening ear."
While James can't give away club secrets, technical aspects of his role have included workshops on performing under pressure. And he takes a hands-on role, watching and engaging with training sessions with the aim of being part of the coaching team, not just a psychologist as a 'separate entity'.
James is also a football coach with the Saints Foundation, the charity arm of Premier League club Southampton FC.
There he works with individuals with learning and hearing disabilities, as well as those with visual impairments and cerebral palsy, running 'resilience workshops' for Southampton FC's Para Talent Hub, among other things.
Previously, it has also seen James working alongside Martin Sinclair, a Team GB Paralympic silver medallist, Paralympic World Cup bronze medallist with over 50 England caps, Hall of Fame inductee at the National Football Museum, and brother of Preston North End and former Celtic star Scott Sinclair.
Meanwhile his role as a performance psychologist for Eastleigh's first team means he's been in discussions with coaches to develop plans for next season, with the National League declared null and void at the end of April.
And when it comes to working with youngsters, James says one of the key challenges is 'engagement' - something he's tried to improve with the help of technology.
He explains: "One of things we look at is how players control emotions.
"In a recent session I asked the group to play a football video game, where one team played as Barcelona, where players skill and speed had been enhanced, whilst the other played as a considerably inferior team.
"It became a matter of controlling the controllables, and to get them feeling certain emotions - to get them feeling frustrated but in a fun and interactive way.
"You have to change it up and make it interesting because they are unlikely to want to sit through a 60-minute lecture."
If you're interested in studying Sport Psychology at Hope, head here.
James is also launching a consultancy, Maiden Psych, the details of which can be found via his Twitter page: https://twitter.com/Maiden_Psych