A talented Liverpool Hope University graduate has revealed how her new screenplay has been picked-up by film producers.
And with shooting set to start later this year, Phoebe Lorenz is hoping her idea will ultimately be turned into a feature length movie.
Phoebe, 27, studied Drama and Theatre at Hope, graduating in 2014, before going on to complete a Masters in Professional Acting at London's respected Academy of Live & Recorded Arts (ALRA).
Having fulfilled various roles on stage and screen, Phoebe put her career trajectory into her own hands by penning her own script.
Titled I'm STILL Ethan, it tells the story of an eight-year-old boy coming to terms with the fact his father has been sent to prison, as he runs the gauntlet of societal prejudices.
And for Phoebe, from Barnard Castle, County Durham, it's a story that packs an especially emotional punch - because it mirrors some themes from her own life.
She explains: "I grew up with my mum being gay. And at that time, it was pretty much unheard of in the small, rural community where I lived.
"There was a general sense of not really fitting in.
"During my studies I wrote a one woman show, called 'That's SO Gay', about my experiences, and I found the audience responded really well to hearing about these issues from the child's perspective.
"I want to use my voice to tell these unheard stories.
"As a child, I actually lived quite close to a Young Offenders Institute. I'd see families arriving to visit inmates and realise how tough it is for those left behind when your dad, mum or brother suddenly isn't there any more."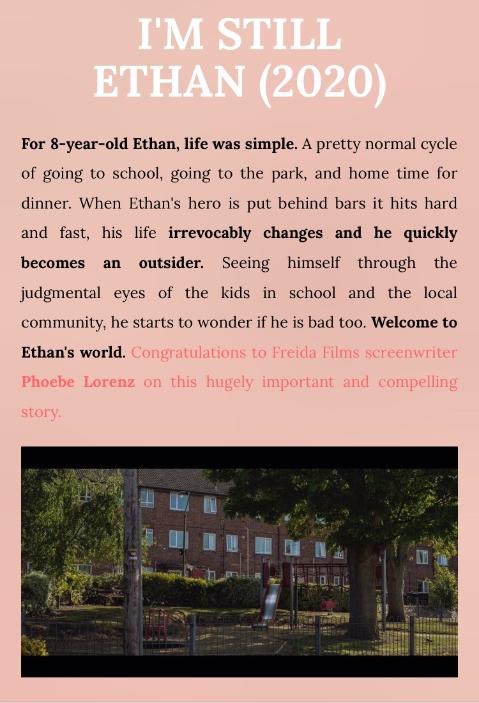 I'm STILL Ethan will be filmed as a short by production company and collective Freida Films later this year, which Phoebe is also a part of. The short will then be used as a 'proof of concept' to secure funding to turn it into a full, feature length film.
Phoebe, who is inspired by movies like Ken Loach's I, Daniel Blake and Shane Meadows' drama This is England, will also play Ethan's mum.
She adds: "You follow Ethan and his mother's story as they attempt to come to terms with this 'new normal' way of life.
"And it's also highlighting the fact that the families themselves are almost given their own sentence to serve when loved ones are locked away.
"They face judgment from their friends and peers. Ethan finds himself isolated at school.
"And we're also speaking to several charities in the hope we can really shine a light on this important issue.
"Being able to create my own work, which I can perform in too, is also really empowering for me."
This won't be Phoebe's first film.
She plays character 'Xenithia' in independent sci-fi movie Star Warrior - Legend of Aciris, due out later this year.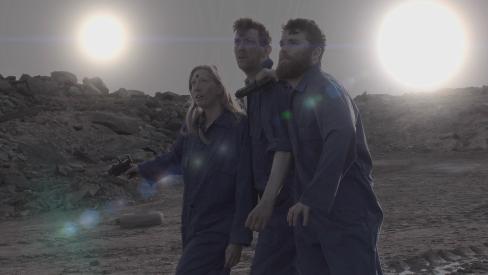 (Still from Star Warrior, above)
She's no stranger to the stage either, having worked as a theatre usher at the now Sondheim and Noel Coward Theatres in London's West End, and also as Duty Manager at Barnard Castle's The Witham.
It's at The Witham where she recently played Thea Elvsted in the famous play Hedda Gabler, which revolves around the daughter of a general who's trapped in a loveless marriage.
Meanwhile Phoebe is also an etiquette coach, trained by business and social etiquette expert Debrett's.
And she's using those skills to teach actors how to boost their confidence - and their employability.
She explains: "When people hear the phrase 'etiquette coach', they immediately think I'm going to tell them how they should hold a knife and fork!
"But it's nothing like that. It's actually simply about putting the other person at ease in social situations. And that's actually crucial for actors.
"Some actors are actually quite shy and they're not good at networking.
"But if you're at a party filled with press, producers, directors and agents, you need to have the confidence to approach people.
"The acting industry is, of course, extremely competitive. If you can give yourself an edge in terms of making yourself known to others, you have an immediate advantage."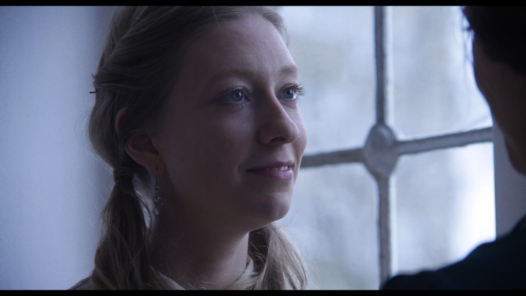 (Phoebe in German language film, Deal, above)
Creative Phoebe was partof the Global Hope volunteering initiative during her time at the University, even visiting a school for underprivileged children in Uganda.
And she's got a message for other Hope students with acting ambitions - never, ever give up.
She adds: "Learn for yourself when to take pieces of advice, or criticism, with a pinch of salt.
"Switch your ears off to some of the more negative feedback, as it's often not healthy, and just focus and remain driven on your goals.
"Take every opportunity you can to network - it's important.
"And I'd also suggest taking any work you're offered, even if it's unpaid. I know I've taken-up a lot of unpaid opportunities and without them I wouldn't be where I am today."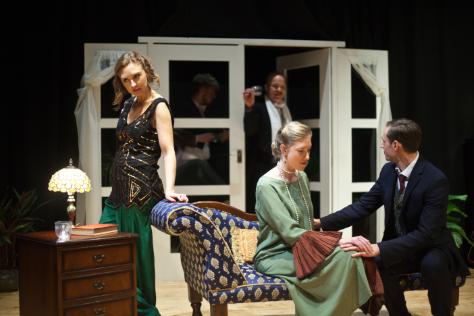 (Phoebe in Hedda Gabler, above)
Phoebe also says a 'special thanks' goes to Hope's Lecturers past and present, particularly; Professor Victor Merriman, Dr Simon Piasecki, Dr Kris Darby, Dr Gary Anderson, Lena Simic, Dr John Bennett, Professor Mark Greenwood, Dr Zoe Zontou, Gary Bowen, and Professor Bill (and Fiona) Chambers who accompanied Phoebe to Uganda - as well as all the catering staff who she worked with.
** In special memory of Carmel Cleary.