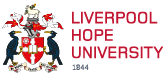 Mr Niall Doherty
SCHOOL ADMINISTRATIVE ASSISTANT
Creative and Performing Arts Admin Office
0151 291 3672 .
dohertn@hope.ac.uk

I am the Administrator for Drama, Theatre Studies, Dance, Creative and Performing Arts and Music all at Undergraduate level as well as Music and Performance at Postgraduate level. I enjoy working at the Creative Campus, seeing the journey students take during their studies and watching (even at times contributing towards) their creativity develop as artists.
I studied Music Technology as an undergraduate at Queen's University, Belfast. I studied Audio Engineering and Production at Futureworks School of Media, Manchester. I started work in Higher Education at Liverpool Hope University in 2017 at the Creative Campus. Prior to that I worked in local government and the health sector, as well as some freelance audio engineering and performance work.
As a musician and performer, I have travelled extensively and performed in various venues from the Stravinsky auditorium in Montreaux, Switzerland to Carnegie Hall in New York, USA, as well as more recently at the Green Man Festival in the Brecon Beacons, Wales.