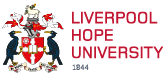 Professor Stephen Davismoon
DEAN OF THE SCHOOL OF CREATIVE AND PERFORMING ARTS
Creative and Performing Arts Admin Office
0151 291 3760 .
davisms@hope.ac.uk

I was born in London and started to play guitar, compose and explore synthesisers at an early age.
I went on to study music as an undergraduate at the University of Southampton. I hold a PhD in Music Composition from the University of Edinburgh; I was recently awarded a Senior Fellow of the Higher Education Academy (SFHEA). I have worked in the Higher Education sector for 30 years.
I am passionate about accessibility and engagement with the arts.
I have had a professional composition career for more than 30 years - from solo pieces through to orchestral and choral works, as well as realising a number of live-electronic/interactive soundscape pieces. I have had the privilege of having performances in Brazil, Canada, Finland, France, Germany, Holland, Iceland, Italy, Latvia, Lithuania, Russia, Spain, Switzerland, UK, Ukraine, Uruguay and the USA. Working with many notable musicians, institutions and festivals along the way including: Royal Liverpool Philharmonic Orchestra & Ensemble 10/10; BBC Philharmonic Orchestra; Clark Rundell; Michael Seal; Roberto Fabbriciani; Rohan de Saram; Die Neuevocalsolisten; Scottish Opera; Tempo Reale; Das Experimentalstudio der Heinrich Strobel Stiftung.
I have appeared on radio and television broadcasts (nationally and internationally) on a number of occasions to discuss music.

As a writer my scholarly work on Luigi Nono, Edgard Varèse and Contemporary Electronic Music have been well-received.

Teaching Specialisms
Music Composition and Arranging
Digital Music
Contemporary Music History & Aesthetics
Music Analysis
School Roles
Head of School
Head of Music
I welcome proposals for PhD study in areas pertaining to contemporary music practice, composition and technology


Recent Works
Veiled Bamboo ... Still Water ... Boundless (2021) a work for quarter-tone alto flute, contrabass clarinet and live electronics. Composed for the flautist Carla Rees and Clarinetist Sarah Watts, known collectively as rarescale. It's premiere performance took place in the Capstone Theatre in June 2021 and was recently recorded for commercial release in early 2022.
Territorial Driftings from the Brow - a multichannel soundscape work dedicated to the Territorial Battalions of the Kings Regiment Liverpool, realised for an Armistice100 event that I curated with colleagues at the Museum of Liverpool November 2018

Beyond Twilight - a work for RLPO's Ensemble 10/10 and live electronics premiered in Liverpool's St. George's Hall November 2018 and performed again at the Edison Denisov Conservatory of Music, Tomsk Russia

Lancelot's Love Eternal - a live-electronic soundscape work realised for the Martini Electtrico Festival at the Bologna Conservatoire, Italy April 2018.

Unlucky for Some - two settings of poems by Roger McGough from the cycle 'Unlucky for Some' commissioned by the Ensemble 10/10 to coincide with their 50th anniversary celebrations of the publication of 'The Mersey Sound' and McGough's 'Summer with Monika' in 2017.

Wreathed in Clover - for Percussion Ensemble commissioned by the Wanda Bass School of Music, Oklahoma City University where it was premiered in March 2018. It is inspired and dedicated to the extraordinary World War One story of the Harlem Hellfighters ... along with the incredible legacy of the musician James Reese Europe (1881-1919) who led the marching band of the 369th infantry division.

God's Own Caught in No Man's Land - a large-scale contemporary oratorio commissioned by the BBC Philharmonic Orchestra to commemorate the centenary of the Battle of the Somme. It places special focus upon the tragic experiences of the Salford Pals. Performed on July 1st 2016 and broadcast on BBC Radio 3 on Remembrance Sunday 2016.

Recent Publications
Mist & Branches Against A White Sky - performed by Roberto Fabbriciani on Tactus CD label 2020

Stations of the Clyde on the independent vinyl label 'Vinyl Selection' 2018

Conjuring Spectral Sonic Traces - an article for The Drouth ISSN 1474 6190 Spring Issue (2017)

Hybridity of Practice and Aesthetics Between Electronic Dance and Electroacoustic Musics ­- a collection of edited papers for Contemporary Music Review. Published October 2016.
Atomisation of Sound - an article published in the above collection, that observes the importance of granular techniques across many genres of electronic music.

Rains of Steel - a multi-channel soundscape work, composed in commemoration of the centenary of the Battle of Passchendaele - in memoriam to all those that endured the inhumanity of the mechanised slaughter that took place in those fields in Flanders, irrespective of nationality.