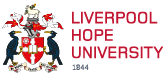 Make yourself at Hope
While we may be smaller than some universities, our students go on to big things. The variety of degrees that we offer, our amazing facilities, the support from our academics, and our philosophy to know every student's name provide the foundations for your future success.
Name: Matt Courtney

Studied: BSc (Hons) Sport and Physical Education

Class of: 2022

'I realised that the bigger universities weren't for me. I didn't want to be a number.'

Name: Trisha Devi Naidu d/o Thayalamurugan

Studied: BA (Hons) Dance and Philosophy & Ethics

Class of: 2022

'We explore things on a deeper level, which is something I've really appreciated. And you're definitely growing as you're learning.'

Name: Lex Tizzard

Studies: BA (Hons) History

Class of: 2024

'I wanted to have a fresh start and meet some new people and really push myself out of my comfort zone.'

Name: Amir Bashir

Studies: BA (Hons) Accounting and Finance

Class of: 2023

'We should be doing everything we can to maximise our brains… in every sense,'

Name: Jack Smith

Studies: BA (Hons) Education and Geography

Class of: 2024

'Going to university is one of life's great experiences. It is an opportunity to pursue your passion, to explore new opportunities and to learn new things about yourself and the world around you.'

Name: Ami Fowler

Studies: BA (Hons) History

Class of: 2024

'The community feel and warm welcome are just two of the things our students tell us they love about studying at Liverpool Hope University.'
If you've been inspired by our students, register for an upcoming Open Day, or view our undergraduate or postgraduate courses.