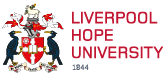 Information for new PGCE students
Congratulations on your place at Liverpool Hope University! This page tells you everything you need to know about joining us as a PGCE student in September 2022. Please keep checking these pages which we will continue to update regularly prior to you commencing your studies here at Liverpool Hope.
Before you arrive
You will receive a welcome email from the Deputy Vice-Chancellor and Provost which will include your login details required to access your University account.
Once you have received the email, there are a number of things that you need to do before you arrive. To do this you need to log in to your Hope IT account:
Visit MyHope, the University's student portal
Login using the details on your letter (when you have done this you will see a selection of options within MyHope)
What to do and by when
What
How
When
Register
Within MyHope, click on Student Record Management (SRM) and complete the Registration Task in your 'In Tray'.
As soon as possible.
Agree to the University expectations related to Covid-19.
As soon as possible.
Registration related tasks

Tell us who will be paying your fees: When your registration task is completed you will be asked questions about payment of your fees.

Upload a photograph for your ID card: There will be a Photo Upload task in your 'In Tray'.

As soon as you register.

Before 6 September?

Access your timetable
Within SRM, click on the timetable tab. Your default screen will be September which will allow you to see your first week(s).
Early September
Access Moodle
Within MyHope, click on the Moodle tab/the big 'M' (on the left hand side) and check your courses are listed. If you click on these you can see if your tutors have already added any information (you will need to check this regularly) they will become populated as we approach the start of term.
Early September
Access your Hope email account

If you have a personal GMail account, please ensure that it is logged off on the device you are using. Then, enter google.co.uk into the browser and click on Mail or GMail in the top right hand corner. Your email username is your ID number followed by @hope.ac.uk. Your password is as set out in your letter from the Pro Vice Chancellor (Student Life and Learning).

It is important that you access this regularly because the University and your tutors will use this to ensure that you have essential details about your course.

As soon as you register.
Start dates for PGCE students
PGCE Primary: 12 September 2022
PGCE Secondary: 13 September 2022
School Direct: You will be contacted directly by the School Direct Partner.
For further information, please view our academic calendars page.
Car Parking Permits
Please note that before purchasing a permit you should read the car parking policy.
Annual parking permits for students who wish to park at Hope Park can be purchased from the Online Store.
Blue badge holders can order their permits from 1st September 2022.
We also offer pay and display facilities where you can park your car at Hope Park all day.