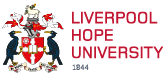 From Art Studios to Iron Thrones
Attila Olah BA Design 2012-2016
"I had always wanted to do a creative job – and this one was too incredible to miss," recalled Attila Olah as he talked about joining Glacial Art as an apprentice back in 2009. It's easy to see why.
Having arrived in the UK from Hungary in 2006 with dreams of becoming a poet, Attila had been working as a painter and decorator. Through a Creative Apprenticeship, Attila landed a role with Glacial Art in Liverpool. As part of the UK's leading ice-sculpting company, he would have the chance to contribute to some amazing projects whilst studying for his Design degree, including a large-scale Stonehenge formation for Game of Thrones. "It was amazing to be part of the team that sculpted such a high-profile piece and travel over to Ireland to set it all up ready for filming," he said.
After three years with Glacial Art, Attila had decided to go part-time so he could study for a BA in Design at Liverpool Hope. "I felt I needed to develop my skills, knowledge and technical abilities," he explained. "I also hoped that by immersing myself in full-time study, I would have the time, freedom and support to explore new areas.
So was it the right thing to do? "Studying at Hope was one of the best decisions of my life. The tutors were all exceptional artists and designers in their own right and I learned so much from them. They looked after me from day one and even now, I'm still in contact. It really does feel like you're part of a family.
"That's not to say they hold your hand all the time. Far from it. I was constantly challenged to venture beyond the barriers and boundaries of conventional thinking and my own outlook and attitudes. My whole time at Hope was a voyage of discovery."
That was certainly true of Attila's second-year internship. He spent 12 months in Spain working with world-renowned ceramic sculptor Claudi Casanovas. "My tutor had been in touch with Claudi and set up the initial contact," said Attila. "It was a unique experience to be able to shadow him and work on pieces of such extraordinary scale and execution. He showed me what's possible when you step outside the norm of ceramics production."
While at Hope, Attila also qualified for the European Ice Sculpting Championships in Latvia. "As part of my course I had developed new CAD skills, and it was great to be able to put these into practice as I put together my ideas for the competition."
When he graduated in 2016, Attila's work was selected as a prize winner from Hope's 2016 degree show. He used what he had learned about the mediums of both ice and ceramics to inform his ground-breaking pieces, which included ceramic bowls suspended in ice.
Right now, Attila is continuing to work part-time with Glacial Art as he establishes his own ceramics workshop in Liverpool. "By creating an unorthodox fusion of the two contrasting materials, there's the opportunity to shape an entirely new visual language," he explained. "It's an exciting time."
Find out more about our Design degree.