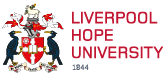 Cornerstone Gallery
The Cornerstone Gallery is located in and above the large main entrance to Liverpool Hope University's city centre Creative Campus. Practice and research are at the forefront of the gallery philosophy and exhibiting artists comprise of a wide range in the best of national and international practitioners.
The Cornerstone Gallery strives to engage in the discourse within contemporary visual arts through an exciting and dynamic exhibition line-up. The programme seeks to engage both student and public audiences with a selection of thematic exhibitions involving significant contemporary art practitioners. Cornerstone exhibitions are crucial to the student experience at Liverpool Hope and works exhibited endeavour to enhance both their contextual study and the development of critical faculties. The gallery is also utilised across the Department of Fine and Applied Arts, for student-focussed professional practice exhibitions and related seminars.
Historically, the gallery has hosted such artists as John Hoyland, Alan Davie, Stuart Sutcliffe, Paula Rego and many others. More recent exhibitors include Michael Stubbs, Andrew Bick, John Bunker, Choterina Freer and Jemma Egan.
All exhibitions are free and open daily for public viewing from 9.30-5.30pm
Contact us
The Cornerstone Gallery
Liverpool Hope University
The Creative Campus
17 Shaw Street
Liverpool
L6 1HP
0151 291 3997
Email us: thecornerstonegallery@hope.ac.uk