Meet Liverpool Hope University's newly-elected Students' Union Sabbatical Officers - a team eager to effect change and to improve the lives of others.
Elections for the roles took place earlier this month, with the winners announced via Zoom during a nail-biting ceremony last week.
And while they won't settle into the roles until July this year, here we introduce you to the new President, Vice-President for Education, and Vice-President for Welfare & Community, as they talk about their ambitions, motivations, and what attracted them to Hope in the first place: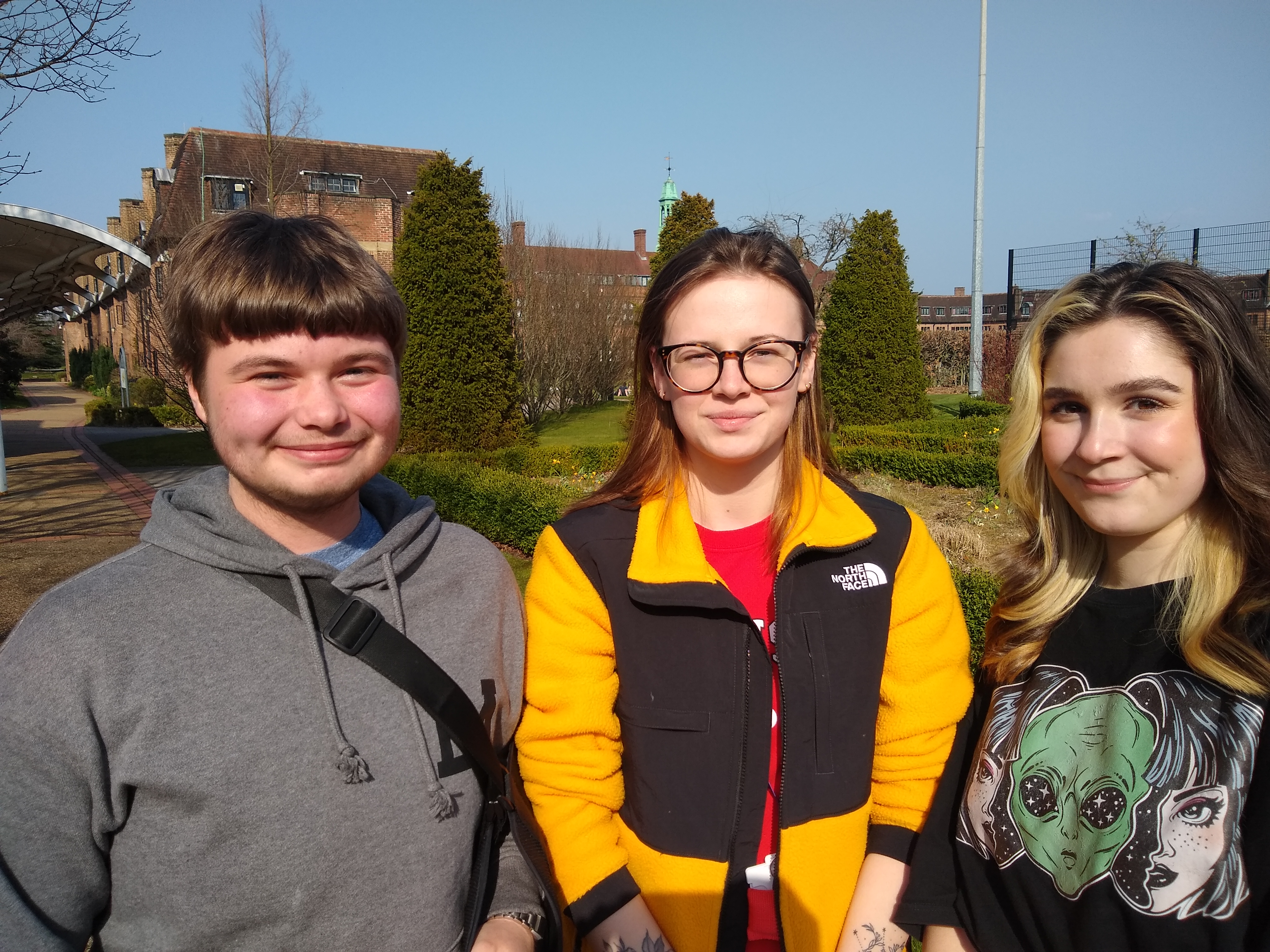 (From left to right: Noah, Erin and Olivia, pictured at Hope Park)
President, Erin Meharry.
Erin is a third year undergraduate studying Sport & Physical Education combined with Education.
She's also currently working away behind the scenes to submit her dissertation and to prepare for her exams.
A gifted footballer originally from South Lanarkshire, Erin has played in the Scottish Women's Premier League 2 and is also Vice Captain of Hope's Women's Football Team.
But away from the pitch, Erin, 20, is passionate about improving the University's provision when it comes to mental health.
She explains: "The main thing I want to do is increase the mental health resources available to students at the university. I want to not only improve access to counselling, but I also want to cut the waiting time to see those counsellors.
"Myself and the other sabbatical officers also want to give students access to counsellors from certain faiths and religions, too, improving accessibility."
Besides her mental health policies, Erin is eager to make it easier for people to take part in sport at Hope, no matter their background or circumstances.
And she'll also liaise with sports clubs and captains to ensure 'bystander intervention' training for sexual assault takes place, while working alongside the charity Tender, which supports young people to prevent domestic abuse and sexual violence.
She adds: "All of this preparation is about ensuring that if any incidents arise, they can be dealt with appropriately and quickly."
Meanwhile Erin says there's a lot to enjoy at Hope - and it's an experience she wants to enhance and enrich.
Erin reveals: "I've got friends at other universities, and they don't get the support that students at Hope get, particularly from tutors.
"Before coming to Hope, I actually got accepted to study at the University of Stirling, which is the best in Scotland when it comes to sport.
"But when I compared the levels of support on offer at both Stirling and at Hope, I knew I wanted to come here.
"Meanwhile the campus here at Hope Park, where I'm based, is quiet, but not too quiet. The campus grounds are also beautiful. Not to diss the other universities in the city, but I don't think they've got the campuses that we've got at Hope."
Vice-President for Education, Noah Thorley.
Bubbly Noah is a History and Philosophy student at Hope who is completing his third year.
You might already have come across Noah working in the Gateway building at Hope Park, where he's on a pastoral scholarship and also working as a student ambassador.
Earlier this month Noah won the 'Student Staff Member' prize in the annual Hope Star Awards.
And he's also got good experience when it comes to his dedicated new 'Education' role within the SU, as he often goes into schools and youth groups to talk to students about a range of topics - including learning difficulties and mental health - while also helping to break down barriers to education.
And for Noah, adding volume to the 'student voice' is key in the coming months.
The 21-year-old explains: "I want to make sure that students feel supported and that their issues are addressed, whether that's in terms of their education or whether it simply means that they're being listened to on other issues.
"Like Erin, I also want to work to make sure students are receiving the support they need, particularly with their studies.
"For me personally, growing up there were lots of barriers to my education. I needed learning support plans and a special type of teaching to enable me to achieve all that I could, and I want students at Hope to have that level of support, too.
"If a student is struggling, I understand that, because I've been through it myself. And I want to use that experience to help others."
Noah, from Crewe, Cheshire, plans to study for a PGCE so that he can ultimately teach History further down the line.
And speaking about what he loves about Hope, he says: "I enjoy the environment on campus as you get to know everyone and you can rely on people for support during your time here.
"There are always friendly faces at Hope - it's very welcoming, from the minute you first step on campus."
VIce-President for Welfare & Community, Olivia Vann
If you're a student here at Hope, you might already have benefited from Olivia's presence without even realising it.
Olivia, a Psychology and English Language student, is Director of Hope's 'Nightline' listening service.
The Nightline Association is a national initiative that describes itself as 'anonymous, confidential, non-advisory, non-judgemental, and non-directive'.
The student volunteers behind Nightline are trained to answer emails, instant messages, and social media texts to other students about anything that's troubling them, from loneliness and depression to exam stress and anxiety. Students are also trained to address mental health crisis too, including sexual assault, self harm and suicide.
And while Hope's Nightline service is currently operational every Friday and Saturday, between 10pm and 2am during term time, Olivia is keen to see the initiative extended to cover most of the week, not just weekends.
Olivia, from Wolverhampton, explains: "Nightline can't operate without our brilliant volunteers - so my goal is to increase the number of volunteers available so that we can ultimately operate on more nights of the week.
"We need constant recruitment to really make it sustainable. And, in general, we need a stable support system for Hope students. I've used the counselling services myself at Hope myself and I feel like the waiting times can be improved.
"I'd also like to see students being offered more sessions with a counsellor than is currently provided."
Olivia also wants to address sexual health, too, which includes increasing the amount of STI testing available on campus.
She adds: "Young people need help and support, particularly when it comes to tackling the stigma associated with things such as STIs, abortions and pregnancies.
"And women in particular need lots of support here because they might not seek the help they need due to feelings of 'shame', which is obviously a barrier that needs breaking down."