Staff, students and societies at Liverpool Hope University have been celebrated and praised at the annual Hope Star Excellence Awards 2022.
The ceremony aims to highlight those who've gone above and beyond the call of duty to make Hope a better place.
Organised by the Students' Union, winners were nominated by the wider Hope student family.
And a party at the Great Hall, Creative Campus, saw winners presented with prizes by the Students' Union President Clara Jayne Priestley and her team, while academics such as Dr Penny Haughan, Deputy Vice Chancellor and Provost, also enjoyed the occasion.
Clara Jayne said: "From the entire Students' Union team, we want to thank everyone for being part of our Hope Star Awards, and we congratulate all those who were either nominated or received a prize.
"You should all be extremely proud of yourselves and we can't wait to do it all again next year."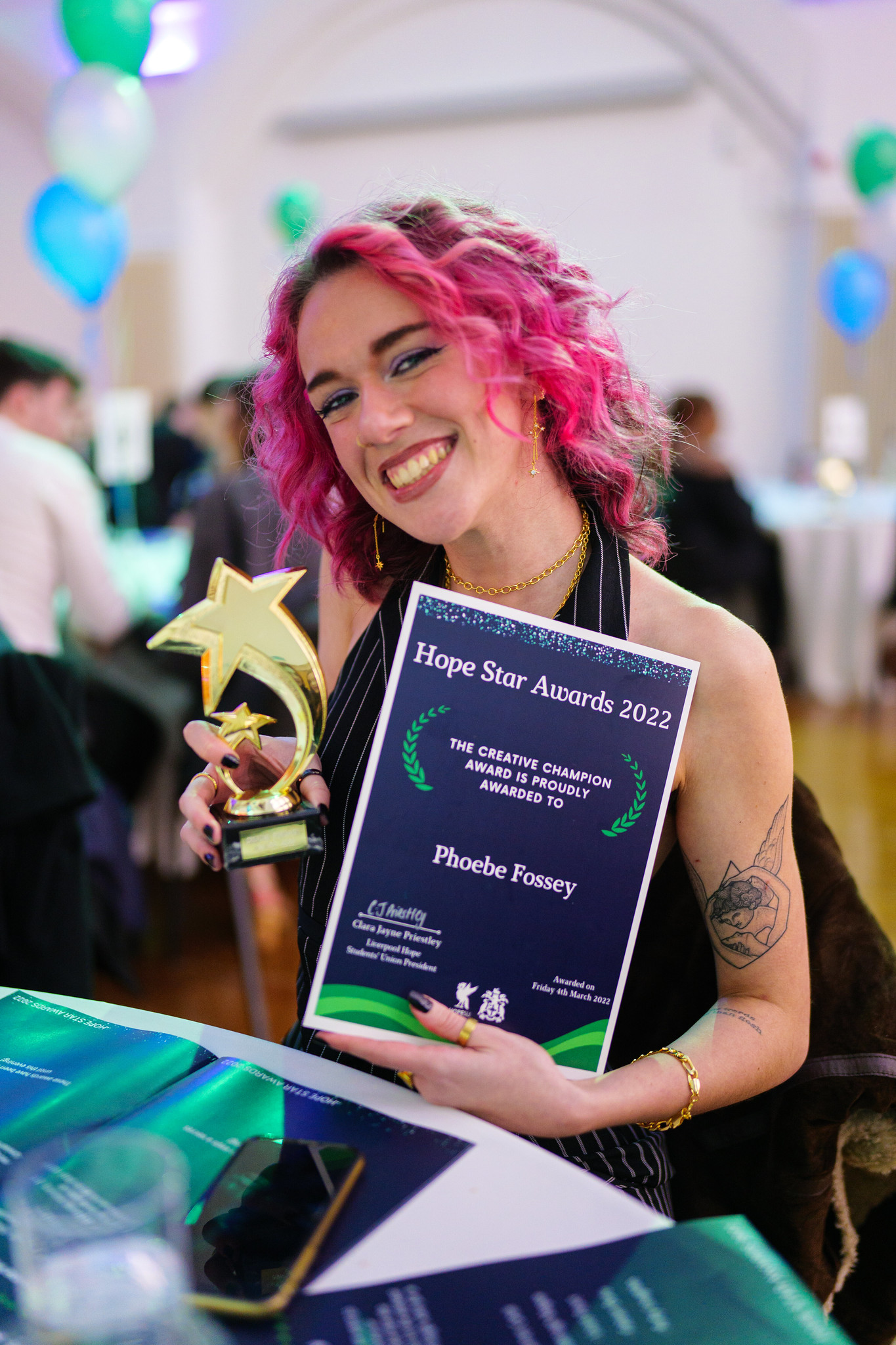 Among the winners were Dr Patrice Haynes, Senior Lecturer in Philosophy, who scooped the 'Tutor of the Year' gong, while Dave Sennett, Executive Project Manager, was named Support Staff member of the year.
Rose Devereux, Skills for Care Coordinator, was named 'Hope Star in the Community' among staff.
Meanwhile determined Philosophy, Ethics, and Religion student Jack Evans was named 'Hope Star in the Community' among the student community for, among other things, his tireless advocating for the trans and non-binary community.
You can check out the full list of winners below.
And we've got a full gallery of images to view here, courtesy of photographer
Alex Monkhouse, aka 'Eye of Alex', who is a recent Film & Visual Culture and Marketing graduate.
Hope Star in the Community (Staff)
Winner: Rose Devereux
Honourable mentions: Michelle Gillmurray, Laura Waite
Student Staff Member
Winner: Noah Thorley
Honourable mentions: Sophie Reppion, Mia Lampton
Senior Staff Member
Winner: Penny Haughan
Tutor of the Year
Winner: Patrice Haynes
Honourable mentions: Neil Buckley, Helen Felcey
Support Staff
Winner: Dave Sennett
Honourable mentions: George McGregor, Fiona Hair
Student Opportunity
Winner: Chris Biggs
Honourable mentions: Niamh Malone, Jo Evans
Hope Star in the Community (Student)
Winner: Jack Evans
Honourable mentions: Mia Innes, Youssra Darouache
Activist
Winner: Fix the Night team
Honourable mentions: Jeandré Coetser, Jack Evans
Green Leader
Winners: Alice Howard, Ethan Greenall and James Ball
Honourable mentions: Aimee Scoones
Course Rep
Winner: Tallula Bhara
Honourable mention: Noah Thorley
Extra Mile
Winner: Natalie Pozo
Honourable mention: Lara Jones
Best Craic
Winner: Rebecca McAlees
Honourable mentions: Adam Jones, Emmett Peacock
Creative Champion
Winner: Phoebe Fossey
Honourable mention: Taya Jones
Thinkers
Winner: Saga Brink
Honourable mentions: Lindsay Rutter, Maisie McKeown