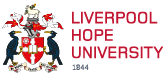 Admissions policy and appeals
The University has a recruitment and admissions policy to ensure we keep to a high quality, fair and transparent admissions procedures. If for any reason you are unhappy for how we deal with your application, we have a complaints procedure.
Recruitment and Admissions Policy
Liverpool Hope University's Recruitment and Admissions Policy is to select those candidates who demonstrate they have an academic ability and personal motivation to succeed in their chosen programme of study. Applications are welcomed from students with excellent academic potential whose academic profile indicates that they will achieve the academic requirements of their chosen course. The admissions decision will rest primarily on the qualifications and also on the aspirations of the applicant in relation to their chosen programme of study. Applicants selected for admission should be suitably qualified and capable of benefiting from their chosen programme of study.
Each application is assessed on its own merits. Selectors will take into account the evidence provided on the application form against the criteria for that particular course. Entry requirements and subject specific requirements are published in our prospectus and website. We welcome applications from students who meet our academic entry requirements and are looking to be intellectually stretched, stimulated and challenged in their studies, and who will add energy, and bring breadth of experience and vitality to the University community. In line with our mission, no student with the necessary academic potential would be disadvantaged by their educational or socio-economic background and our undergraduate bursaries are designed to support such students.
Offers to study on some of our degrees will be subject to an Enhanced Disclosure from the Disclosure and Barring Service. Find out more about our Criminal Convictions (Professional Courses) policy.
Appeals and Complaints
At Liverpool Hope University we are committed to the provision of high quality, fair and transparent admissions procedures and consider all applications in line with the and our commitment to equality of opportunity and the requirements of the Equality Act 2010. The University operates a centralised Admissions Department for applications to most of our courses. Our experienced team includes staff with specialist knowledge to help process applications from people with a wide variety of qualifications, and from all over the world.
In the main an applicant will be unsuccessful in being offered a place at the University if they either do not meet (or are not likely to meet) a specific entry requirement or do not (or are not likely to) achieve the published standard entry requirements. Unsuccessful applicants are therefore encouraged to check the University's website for details of both standard and specific entry requirements before requesting any feedback or lodging an appeal or complaint. The grounds on which appeals and complaints can be made are detailed in the policy, but please note that appeals/complaints cannot be made against academic judgement.
If applicants have cause for concern about the way in which their application has been handled the Applicant Appeals and Complaints Procedure can be followed to lodge an appeal against a decision or make a complaint.