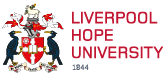 Outreach activities
Here at Liverpool Hope University, our outreach team are committed to widening participation and raising aspirations of young people to maximise their potential.
We offer a wide variety of student recruitment activities, events and workshops that cater for Secondary School aged young people to support them in considering university as a pathway to their future.
Working with schools across the UK and beyond, we aim to develop school-university partnerships to support the recruitment and attainment of learners at Liverpool Hope by supporting students on their journey to university.


We run practical sessions covering topics such as:
UCAS and Personal Statements
Student Finance
Budgeting
Why Go to University
Employability Skills
Time Management
Independent Study Skills
Home from Home (Gibraltar / Isle of Man / Northern Ireland)
The team can deliver our interactive presentations and workshops at your school/college or, alternatively, students can be brought to one of our beautiful campuses to experience what it is like to be a student.
Our Student Recruitment team will work alongside staff, teachers and careers advisers to deliver impartial information, advice and guidance showcasing the benefits of university.
Our aim is to inspire young minds, increase engagement of learners in our local and wider community and to increase access to higher education for all.
Watch Our Video