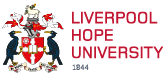 Outreach activities
Here at Liverpool Hope University, our Outreach Team are committed to widening participation and raising aspirations of young people to maximise their potential. Our aim is to inspire young minds, increase engagement of learners in our local and wider community and to increase access to higher education for all.
We offer a wide variety of student recruitment activities, events and workshops that cater for Secondary School aged young people to support them in considering university as a pathway to their future.
Working with schools across the UK and beyond, we aim to develop school-university partnerships to support the recruitment and attainment of learners at Liverpool Hope by supporting students on their journey to university.
Sessions & Workshops
Alternatively, our team can deliver our interactive presentations and workshops at your school/college which can save on transport costs and can fit in better with timetabling. Talks can be delivered as a single session (i.e. during a lesson or assembly) or on a carousel (i.e. the same session delivered throughout the day).
HE & Careers Fairs
We can attend your HE or Careers fairs to speak to students considering university as an option. We can host a stand or table to speak to students during the fair and we are also available to offer talks during the day.
UCAS Fairs
Our Graduate Advocates and Recruitment Officers attend most UCAS Fairs around the UK. On the day, they will be on hand with our latest publications to speak to any students who are interested in studying with us. Details of upcoming fairs can be found on the UCAS website
Watch Our Video