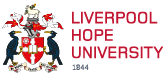 Regional outreach
At Liverpool Hope, we offer tailored outreach offerings for schools residing in Northern Ireland, Isle of Man and Gibraltar.
Working with schools across these regions and beyond, we aim to develop school-university partnerships to support the recruitment and attainment of learners at Liverpool Hope by supporting students on their journey to university.
We also send monthly emails to teachers with information regarding Hope, the city, finance and the courses we offer, to share with their students. If you would like to join this list please click here. If you would like to book any events, please get in touch with your Student Recruitment contact at the University or email outreach@hope.ac.uk.
Our Outreach offerings can be offered practically or virtually and include the following:
Home from Home (Northern Ireland/Gibraltar/Isle of Man)
Student Finance (Northern Ireland/Gibraltar/Isle of Man)
Home from Home Student Q&A
UCAS and Personal Statements
Time Management
Budgeting
Why Go to University
Personal and Life Skills
Study Skills
Campus Visits
Subject Tasters
We also have various literature available that is suitable for your students. You can access the Liverpool Hope literature (Prospectus, Living in Liverpool Guide and Mini Guide) here.