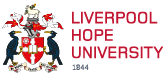 Our team
Our Student Recruitment team is made up of dedicated individuals who are happy to assist schools and colleges in any outreach activities Liverpool Hope has to offer. We strive to make a student's experience of the university a positive and informative one, and it's at the forefront of our team's day to day activities.
Below you will see a brief overview of our Student Recruitment team;
UK Student Recruitment Manager and UK Deputy Student Recruitment Manager
Oversees the student recruitment strategy for the university.


Senior Student Recruitment Officers and Student Recruitment Officers
Liaises with schools/colleges and sixth forms. Can work with you to plan visits to the university or identify any workshops that may be of benefit to your students' understanding of Higher Education to be delivered at your school.

Graduate Advocates
Facilitates visits to campus with the support of Student Ambassadors, creating and running visits from start to finish. Graduate Advocates also attend events that you may invite us to throughout the academic year.

Student Ambassadors

Our Student Ambassadors are current students that study a wide variety of subjects at Liverpool Hope. Student Ambassadors will assist with visits to the university and carry out activities such as campus tours.