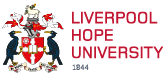 Liverpool Hope Business School
Overview
Liverpool Hope Business School offers a range of undergraduate and postgraduate degrees and we have strong links with a number of leading local and national companies such as Everton Football Club, Santander and Lloyds Bank.
We also work closely with a number of accrediting bodies, including the ACCA (Association of Chartered Certified Accountants)
Choose to study with us and you will have a number of opportunities to meet, network and develop professional relationships with potential future employers.
Each year, the Department hosts the Insight to Business Awards, which rewards students with internships, shadowing opportunities and placements with local businesses.
You will also have the opportunity to take part in Young Enterprise, an initiative that gives you the chance to practise entrepreneurship and establish your own, fully-functioning business.
Liverpool Hope Business School is an accredited member of AACSB International - The Association to Advance Collegiate Schools of Business. For over a century, AACSB Accreditation has been synonymous with the highest standards in business education. Accredited schools have successfully undergone a rigorous review process conducted by their peers in the business education community, ensuring that they have the resources, credentials, and commitment needed to provide students with a first-rate, future-focused business education.
Watch Our Video
Latest News