Accreditation and professional networks
The Business School works closely with Accreditation bodies and is a member of various Professional Networks.

AACSB International is the longest-serving accrediting body for business schools, and the largest business education network connecting students, educators, and businesses worldwide. It provides internationally recognized, specialized accreditation for business and accounting programs at the bachelor's, master's, and doctoral level.
Only 5% of institutions across the world offering business degrees at the bachelor's level or higher have earned this accreditation, with Liverpool Hope being one of them.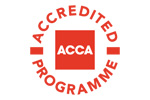 The Association of Chartered Certified Accountants (ACCA) accredits our BA Single Honours programme in BA Accounting and Finance.
The Chartered Association of Business Schools is the representative body of the UK's business and management education sector.
The Chartered Institute of Marketing (CIM) is the leading professional body for marketers worldwide and exists to develop the marketing profession, maintain professional standards and improve the skills of marketing practitioners. Liverpool Hope University has joined forces with CIM to give students the opportunity to gain professional qualifications through the CIM Graduate Gateway. CIM qualifications are highly sought after by employers, and their content is reflected in our own degrees which ensures we are equipping students with the best opportunities for a successful marketing career.
Recognised as an ICAEW Partner in Learning, working with ICAEW in the professional development of students
Liverpool City Region Local Enterprise Partnership (LEP) was created in 2012 to bring together businesses and civic leaders to drive private-sector led growth and job creation. Its focus is to improve the economic prosperity of the City Region for those who live, work, invest and study here.
Professional Liverpool is an exciting organisation with a clear objective – to promote professional excellence in Liverpool and the City Region and to enhance its reputation as a financial and professional centre of excellence.