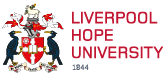 Visitor information
We are delighted to welcome you to Liverpool Hope University. Every year, Liverpool Hope hosts hundreds of events and meetings and we pride ourselves on treating all of our guests, delegates and organisers with individual attention and care.
Each campus has a variety of events facilities and guest amenities, designed with delegates in mind. This includes year round accommodation at Hope Park, numerous coffee bars ideal for refreshment breaks, light and airy conference spaces and beautifully maintained gardens to help create an environment conducive to learning and engagement.
Click on Hope Park and the Creative Campus tabs for more information about each location.
If you are unsure which campus the event or conference you are attending is being held at, please contact the event organiser or the Conferencing and Events Team, who will be happy to help.
Please note: Liverpool Hope University is a cashless campus and therefore cash payments are not accepted when paying invoices or at outlets around the University (including bar facility).