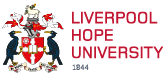 School of Humanities
Overview
The School of Humanities comprises the Subjects of English, History and Politics, and Theology, Philosophy and Religious Studies.
We offer a supportive and engaging environment led by enthusiastic teaching staff who use their professional experience and research expertise to inform student learning. The School of Humanities is home to world-leading research, and students are part of an exciting research-active community.
Our selection of Undergraduate and Postgraduate courses seeks to equip students with the necessary skills and understanding to embrace an ever-changing world.
The School of Humanities is based in the idyllic surroundings of our Hope Park campus which has been specifically designed to provide the best learning environment for our students from dedicated study and social spaces to an extensive catalogue of specialist texts and materials housed in our library.
Associate Professor Guy Cuthbertson
Assistant Dean, Head of School of Humanities and Head of English
Latest News