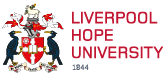 School Resources
Liverpool Hope University provides access to a wide range of resources to aid you in your studies, most of which can be found in the Sheppard Warlock Library
The School of Humanities is always keen to ensure that our students have access to a wide variety of information to help inform and support their studies and research.
This is a database of links to primary sources related to research and teaching strands in History at Liverpool Hope University. All links are free to access and available to all.
Housed in the Sheppard-Worlock Library the University Archives and Special Collections is home to over 75,000 books, manuscripts, journals, newsletters, magazines, and pamphlets. Special Collections is open to all staff and students, as well as external visitors and researchers.