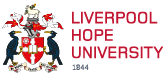 School of Creative and Performing Arts
Overview
Liverpool Hope University has a track record of excellence in the study, practice and research of the Creative and Performing Arts that stretches back several decades. In the instance of Music, it goes back even further to being more than 175 years.
With our recently and rather wonderfully refurbished Creative Campus, each subject discipline will be able to continue to flourish long into the future.
Every academic on the Creative Campus is actively engaged, either as a practitioner or as a scholar and recognised externally, often at the highest levels of national or international standing. This is so important for two main reasons – firstly so that colleagues can offer professional insights to their students and secondly to ensure the delivery of a 'research-informed' curriculum that continues to remain current and up-to-date. The professional awareness that is offered by the academic staff to their students is so important for reasons of employability. This has been an area of strategic importance for us in recent years and has seen us consistently ranked as one of the most successful Universities in the UK with respect to Graduate Employability as well as being named Best in the Region for Student Experience.
The Creative Campus of the School of Creative and Performing Arts is situated just a short walk away from the heart of Liverpool – a city with a long and proud world-class creative tradition. Whether you are planning to study Art & Design History, Dance, Drama, Drama & Theatre, Film & Visual Culture, Fine Art, Graphic Design, Contemporary Performance, Musical Theatre, Music and Music Production with us, you would be encouraged by our highly committed, friendly and supportive academic colleagues.
Your learning experience would take place on our beautiful Creative Campus, with its acclaimed Angel Field Gardens, just a 15 minute walk from Liverpool city centre. The Creative Campus is a mix of historic and new buildings, all of which have been converted or constructed to provide state-of-the-art learning, performing, creative, living and socialising spaces for our students.
Our students in the School of Creative and Performing Arts enjoy many exciting opportunities arising from the relationships and partnerships we have with many of Liverpool's finest creative institutions including: Tate Liverpool, The Everyman & Playhouse Theatres, SoundCity and IMMIX Ensemble.
Click here to view the welcome from Professor Stephen Davismoon, Associate Dean of the School of Creative and Performing Arts and Head of the Creative Campus.
Watch Our Video
Latest News