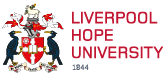 Who we work with
The School of Creative and Performing Arts works closely with a broad number of Liverpool's cultural organisations to professionally enhance our learning and teaching offering as well as providing exciting research possibilities.
Typically, these collaborative relationships provide exciting opportunities for special professional or industry-related workshops to our undergraduate and postgraduate students. Opportunities also exist for undergraduate students to undertake work-based learning placements with some of these organisations and to attend selected concerts, exhibitions and events.
The School of Creative and Performing Arts has formal working relationships with TATE Liverpool, Liverpool Everyman and Playhouse Theatres, Liverpool Sound City, Liverpool's Royal Court Theatre, IMMIX Ensemble, European Opera Centre, Milapfest and Liverpool Metropolitan Cathedral – which come together to provide a diverse insight into the professional world of the Creative Industries.
Careers and Employability
At Liverpool Hope, we want our students to have the best possible chance to embark on stimulating, rewarding and successful careers. Your career management is not about what year you are in here at Hope; instead, it is about your transition from student to professional. So, whether you have everything mapped out or you don't know where to start, our comprehensive Careers and Employability Service will ensure you have the right information, advice and opportunities to give you a great start to your career after graduation.
In addition to the employability available at Hope Park, such as the Employability Hub, Careers and Employability offers an extensive programme of events and provision – including careers information, drop-in sessions, one-to-one guidance interviews and employer-led curriculum provision and employability workshops at the Creative Campus. As well as special events, members of the team are here from 9-1 every Tuesday in COR 003c, specifically for you to drop in and gain career and employability advice and opportunities. Please visit the Student Gateway for a full list of services, events and drop-in sessions.