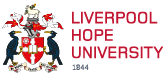 What our students say
Students from the School of Creative and Performing Arts share why they chose Liverpool Hope and what they love most about studying at the Creative Campus.
"The Art & Design History programme at Hope differs from any university you will look at because it incorporates a great variety of content to study. My lecturers are so friendly, supportive and passionate about the course, which encourages me to love the subject even more. Another feature that attracted me to study the course was the Creative Campus. It provides a vibrant and welcoming environment that I look forward to visiting for my lectures, seminars and tutorials. It has everything I need to progress in my studies, including a vast library, quiet places and computer rooms. Despite living at Hope Park Campus, it has never been an issue for me to get to the Creative Campus as the university provides a free and efficient shuttle bus service. It is without a doubt that I recommend the Art & Design History course at Hope. I can assure you that it will be a decision you won't regret!"
Bryony Large, BA Art & Design History
"The main reason I chose Dance at Hope is because you can combine it with another subject. I chose Physical Education. It allowed me to study my two favourite subjects alongside each other. Another reason why I chose the Dance course is the theory side, in which we cover a variety of practitioners, some whom I have a strong interest in. In practical lessons I am able to embody their styles. Speaking of the practical side, I myself not being the best technical dancer have seen myself grow and become a lot stronger. I highly recommend studying Dance at Hope if you would like to learn to become a stronger, more knowledgeable dancer and choreographer."
Emma Nicholson, BA Dance
"One of the main reasons I chose Hope was for the campus and the facilities. The fact that there is a separate campus to accommodate the creative students gives a lot of opportunity to blend with other students like you. Everything you need is on your doorstep. Plus, the campus is near to the city centre, which is a bonus for shopping and leisure. The tutors at Hope are incredibly supportive. You can join societies related to Drama like the Drama Society or the Musical Theatre Society. There are also many opportunities for trips. I highly recommend that you study for your Drama degree at Liverpool Hope University."
Caitlan Barnes, BA Drama
"I have studied Film since High School and I have always had a passion for the subject. Like many students, I didn't start considering University options until I was in college; having lived in Liverpool my entire life. I was always aware of Liverpool Hope, and knew that it was a great university. It was actually my college Film teacher who suggested Liverpool Hope to me as he was actually studying a Masters degree at Hope part-time. Understandably, I did want to see the University for myself before making a firm decision. What sets Hope apart the most for me was the Creative Campus - a dedicated site for art subjects which is just in walking distance from the City Centre. I genuinely recommend Liverpool Hope University for those wanting to study Film & Visual Culture."
Lauren Davies, BA Film & Visual Culture
"I have always been fascinated by art and its history and here at Liverpool Hope I have been able to develop my own creative process with the help of knowledgeable tutors and dedicated support staff who are always there to assist. I have expanded my understanding of art through excellent lectures given by enthusiastic tutors, as well as field trips to local galleries and exhibits, which Liverpool boasts a superb range of. I really enjoyed learning new practices through a wide range of facilities. Studying at the Creative Campus is a huge boost to inspiration because everybody there is studying something creative which helps to stimulate and encourage the mind. If you have an inquisitive and innovative mind and enjoy learning in a visual and inspiring way, then this is the place to study."
Gregor McHugh, BA Fine Art
"Graphics is such an excellent course for someone with a creative mind. When coming up with an idea, anything that comes into my mind, no matter how crazy and wacky, it can be expressed onto a page and there is always support behind you regardless of the idea. Choosing Hope was a no brainer really. During my interview I knew instantly that I wanted to be part of this university. I was pretty much sold when given a tour of the Creative Campus by a Drama student. I highly recommend Graphic Design at Hope. Do it!"
Charlotte Hullock, BA Graphic Design
"Performing and studying the history of music has always been my biggest interest. Music at Liverpool Hope helped me broaden my horizons in a variety of musical aspects. One reason I particularly chose Hope is for the Creative Campus. I like how all the art subjects are in one separate campus - it is also a small walk from the city centre. The lecturers at Hope are incredibly supportive and are always there to help students with any topics and also help them settle into university life. They also provide a vast amount of opportunities, for instance performing in Big Band, Concert Band, Choir and many more. I highly recommend the Music degree at Hope."
Gemma Wilton, BA Music