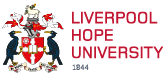 Welcome from Professor Stephen Davismoon
As Dean of the School of Creative and Performing Arts, I am delighted to welcome you to Liverpool Hope University. The Creative Campus is home to our Creative and Performing Arts subjects and is just a short walk away from the heart of Liverpool City Centre – a city with a long and proud world-class creative tradition.
At our award-winning Creative Campus you can study a wide range of undergraduate subjects within the field of Creative and Performing Arts including Art & Design History, Dance, Design, Drama, Drama & Theatre Studies, Film & Visual Culture, Fine Art, Graphic Design, Interactive and Immersive Performance, Musical Theatre, Music and Music Production. You will have access to the latest state-of-the-art technology and performance spaces and be taught by highly committed academics, all of whom are experts in their fields, engaged in the international worlds of creative practice and scholarly research.
During my own University journey, I fell in love with the environment of learning and I was completely inspired by the Arts. The whole experience changed my life and I made some life-long friends. I have really happy memories of working in the Music studios late at night immersing myself in music. I also managed to see some really famous and spectacular artists and composers from all around the world. This for me was a real eye-opener for a boy who grew up on a council estate in North East London. Going to University enabled my first international experience as a young man and I have fond memories including working in a studio in Germany and of my first international performance in France. It opened up many doors for me that I didn't think were possible.
The creative industry is the fastest-growing sector in the UK Economy according to official Government data. Creative content is one of the largest exports in the UK Economy with an estimated 2,040,000 jobs - 75 per cent of them outside London. The UK's creative industries are developing new jobs faster than any other sector significantly contributing to record employment figures in the UK economy as a whole. In 2018 creative industries grew jobs by 1.6 per cent. It is therefore one of my top priorities to ensure that your individual student experience is reflective of these trends and that our students flourish in careers in the Arts and Cultural Leadership following graduation.
If you decide to continue your studies to Masters Level, our unique MA Contemporary Performance offers an interdisciplinary and multicultural perspective in contemporary performance practice and research. We also offer a further new Masters in Creative Music Practice (MA).
Your overall learning experience will be enriched by our beautiful surroundings where you can take advantage of top quality learning spaces including our two stunning Grade II Listed buildings and attractive outdoor performance areas in our multi award-winning Angel Field Renaissance Gardens.
The Creative Campus is a mix of historic and new with a total of £5.2 million invested in the Campus last year alone, seeing expansion with the purchase of new buildings and major refurbishments to existing learning spaces which have been complemented by a substantial collection of new specialist equipment to support practice-based teaching and research. Last year saw the development of a new £2.39 million Arts Centre following the purchase of a newly acquired building which was renovated and converted to high quality standards boasting dedicated modern studios, exhibition spaces and student learning zones.
There will be plenty of challenges ahead and an abundance of fulfilment, and above all else our goal is to stretch your creative imaginations to prepare you for the world of work where you can realise your full potential and begin the next stage of your journey in a highly rewarding career.
I am delighted that you are considering your studies with us, and I look forward to personally welcoming you to the School of Creative and Performing Arts in the near future.
Professor Stephen Davismoon, Dean of the School of Creative and Performing Arts and Head of the Creative Campus
Contact us
For further info, e-mail us at:
Or phone:
0151 291 3672