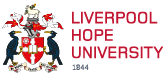 Facilities
Our Creative Campus is close to Liverpool city centre and is home to our School of Creative and Performing Arts. Here, you can learn your craft in the inspirational setting of Grade II-listed buildings and state-of-the-art performance spaces.
The University has invested significantly in this campus, unveiling a new Arts Centre, Graphic Design Studio and Fabrication Lab. The transformed spaces include two theatres, two dance studios, two black box performance spaces, a music technology laboratory and a recording studio.
Libraries and Reading Room
The Creative Campus has two libraries and a lovely Reading Room looking out onto the gardens, offering you a quiet place to study and work. If the Creative Campus doesn't have a book you're looking for, you can request for it to be transferred from Hope Park, meaning you don't miss out!
Student Success Zone
The Student Success zone is open 24 hours a day during term time. It contains PCs, printing facilities and plenty of space for group study, as well as comfortable seating for studying.
Café 1846
The ground floor of the Cornerstone Building has been transformed into a vast open plan café and meeting area, with modern lighting, breakout spaces and a food court. Enjoy a range of specially-selected coffees, teas and cold drinks, as well as a wide range of cakes, sandwiches, toasties and paninis.
General living
You never have to worry about your washing pile getting too large, as we have an on-site launderette for all our students to use! If you need any household essentials, there are a wealth of shops close to campus selling everything you need at budget-friendly prices.
Student support
The Students' Union, Student Support and Well-being, and the Chaplaincy have hubs on campus so you can speak to members of the teams.