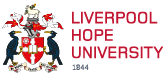 Facilities at Hope Park
Hope Park has a wealth of facilities so that when you join us, everything you need is within easy reach. With plenty of accommodation, a gym, playing fields, restaurants, cafes, a shop, a launderette and much more, you really are spoilt for choice.
Sporting life – something for everyone!
One of the newest additions to Hope Park is our Health and Sports Science Avenue. Home to the Health Sciences Building and Hope Park Sports, there are plenty of facilities for you to use, including a gym, a strength and conditioning suite, a Physiotherapy and Sport Rehabilitation Clinic, a sports hall, and outside spaces for hockey, football, rugby and tennis. Hope Park Sports is available for all students to use for a yearly fee of just £25! Visit our Hope Park Sports pages for more details.
Eating and drinking
When you need to refuel, there are a number of cafes and eateries on campus, including a Starbucks, a Costa Coffee and a healthy-food café. Visit our where to eat page for a full list of our catering outlets.
General living
You never have to worry about your washing pile getting too large, as we have an on-site launderette for all our students to use! If you need any household essentials, we also have a shop on campus.