A Fine Art student at Liverpool Hope University has become a social media sensation after her work went viral - and has even been praised by a clutch of Premier League footballers.
Abigail Rudkin is about to go into her third year of studies at the University's Creative Campus.
An avid Liverpool FC fan, in May she began producing paintings of famous footballing scenes from down the years, featuring managers and players.
And having amassed an army of followers, Abigail has been contacted by both former defender Jamie Carragher, 42, and England international Adam Lallana, 32, in recent weeks.
What's more, one piece commissioned by a friend of Lallana is now hanging in the midfielder's home bar.
For Abigail, it's seen her go from a student struggling for confidence to being blown away by the amount of commissions coming her way - more than 40 in little more than three months.
The 20 year old, from Aintree, north Liverpool, explains: "It all started completely by accident. My dad asked me to paint a picture of Liverpool manager Jurgen Klopp, which I did and posted a photo of it to Twitter.
"All of a sudden it was getting lots of likes and comments, and then people started messaging to ask about commissions.
"Things just snowballed from there. I've been inundated with requests.
"I never, ever expected people to like my work. If anything I actually lacked the confidence to put my work out there.
"But this experience has really given me the strength and conviction to really believe in my abilities.
"And while football scenes aren't something I'd typically paint, I feel like I've carved myself something of a niche, even though there are other artists out there doing similar things."
One of Abigail's paintings, all acrylic on canvas, was of club icons Steven Gerrard, 40, and Carragher.
It saw Carragher Tweeting Abigail to say how impressed he was with it, while prints of the painting have been sent to the Sky pundit's footballing academy - Brunswick Youth and Community Centre - for him to personally sign.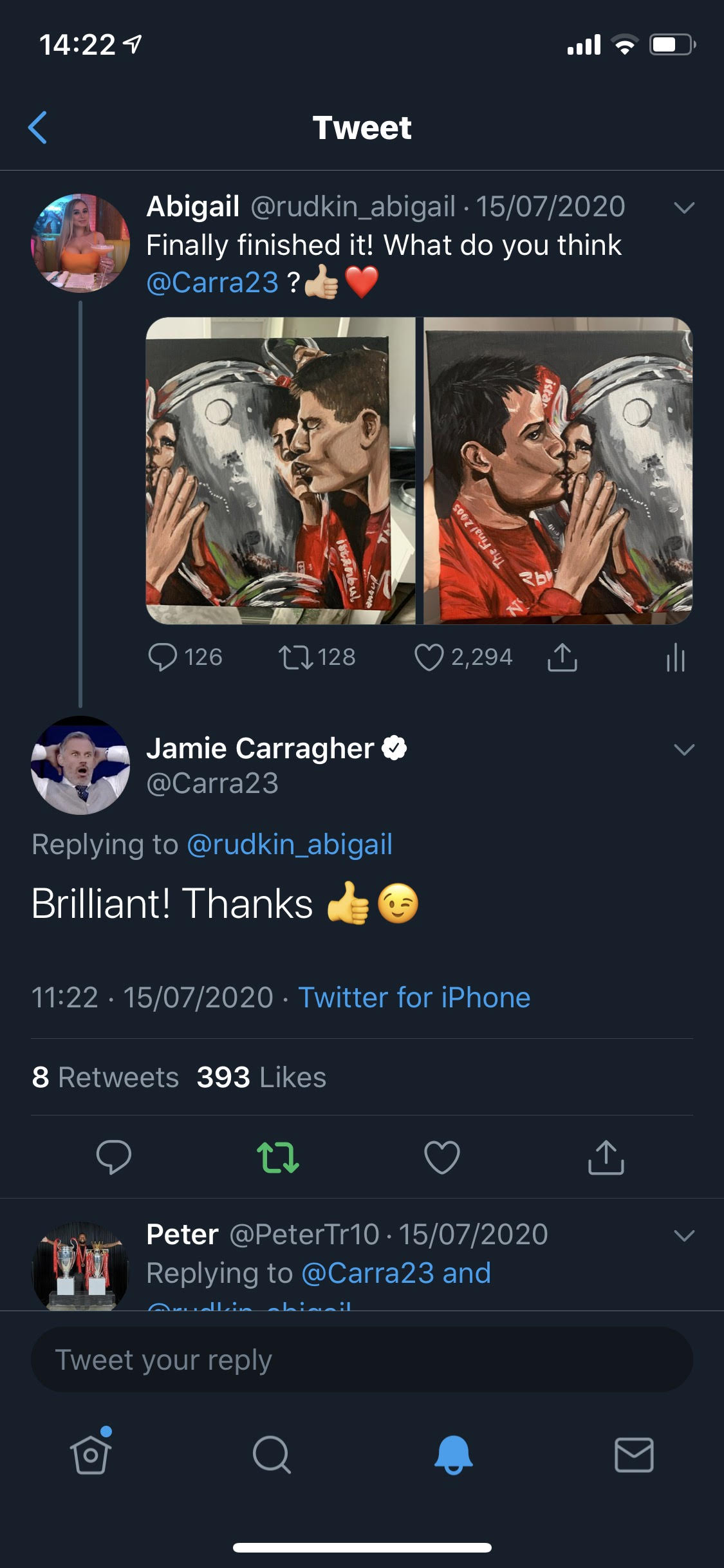 Abigail, who has been able to charge up to £500 per painting, says another commission came from a friend of Lallana, who left Liverpool this summer to sign for Brighton - intended as a gift for the player.
Lallana himself also personally thanked Abigail through social media.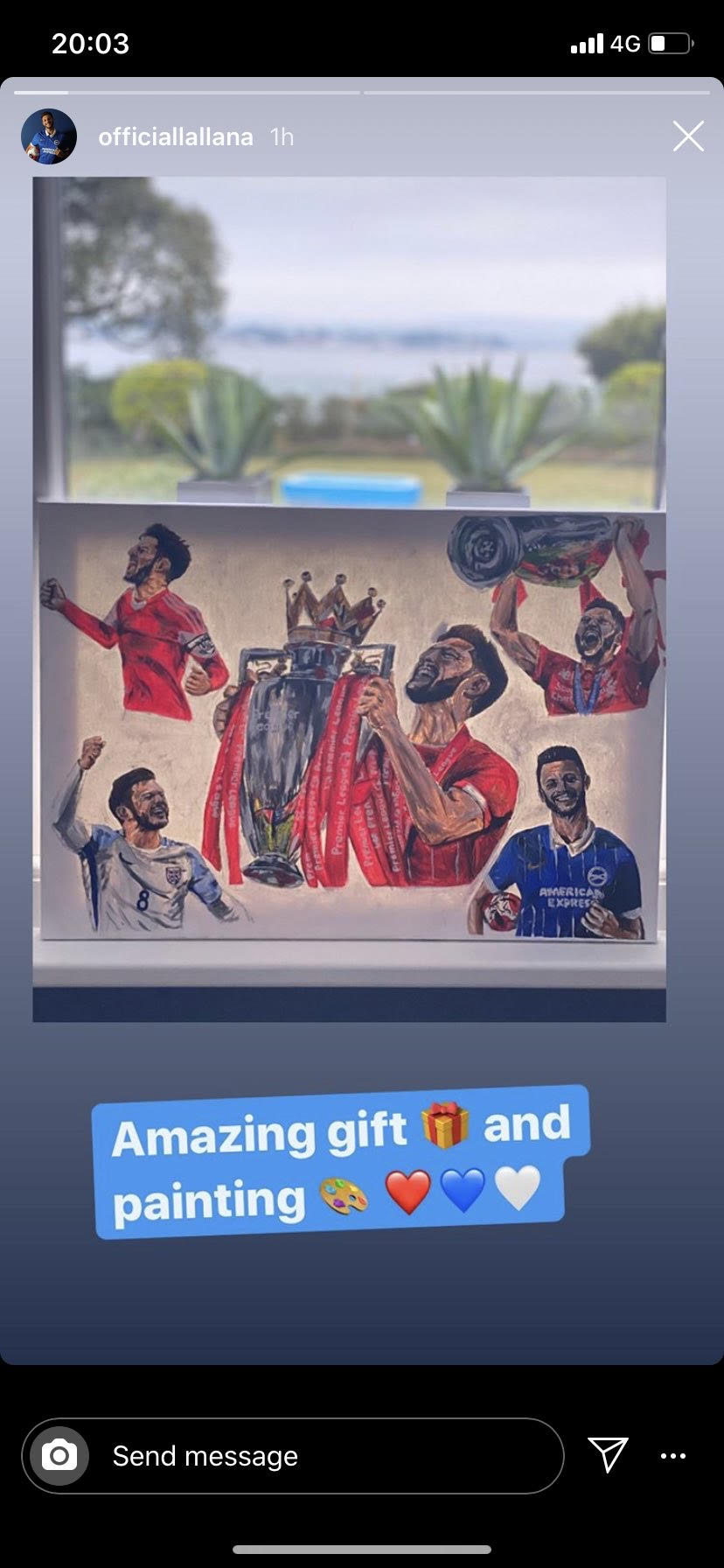 Remarkably, Abigail says she's taken social media trolls in her stride, too, and has actually used the experience to feed into her studies.
She explains: "In the first two years at Hope, a lot of my work focused on the effects of social media when it comes to female confidence, feeding into ideas about feminism.
"When these trolls first appeared to start criticising my work, it was obviously a bit of a shock and not something I was prepared for.
"People don't realise that what they're saying can kill someone's confidence.
"But when I screenshotted some of the horrible comments and called these people out, challenging them, the support I received back was overwhelming.
"It sounds weird to say it, but the trolling has actually been good research, as first hand experience, and I feel like I can apply it to my future work."
Abigail, who sells paintings, prints and stickers through her 'Etsy' store, is using her skills to help others, too.
One of her paintings is being auctioned off to raise money for Manchester cancer hospital The Christie - as one of her friends is currently fighting the disease.
And she's also working with 'Neesie', a Home Office-backed charity that supports single mums and women with children, to help illustrate a new anti knife crime book.
Due for completion in November, it'll see Abigail draw a series of superhero characters who support families in need.
That book will initially be distributed through schools in Bradford, West Yorks, while Abigail is also working with the charity to try and establish a footing in Merseyside, too.
Abigail adds: "I'm honoured and excited to be working with the charity - and it obviously feels nice to say that I'm going to be a published illustrator!"
As Abigail prepares for her return to campus, she's also quick to tell anyone else thinking of coming to Hope that they won't regret their decision.
She reveals: "The freedom to be creative and to explore your own ideas was one of the main reasons why I chose Hope.
"You have full control over your projects, it's your work. And it's exploratory - tutors want you to explore all mediums, rather than simply putting you in a restrictive box."
To learn more about studying Fine Art at Hope, head here.