A team of academics from Liverpool Hope University will analyse how a child's learning and emotional development is impacted by the wearing of face masks.
July 2020 saw the UK Government making the wearing of face coverings mandatory in public spaces, such as shops and on transport, in the face of the rapidly-escalating Covid-19 crisis.
The enforcement saw UK youngsters having to make sense of a world where they were conversing with others whose mouths were covered. They may have also been wearing masks of their own.
And now Hope's 'ChildLab' - an acclaimed inter-disciplinary research centre between the Departments of Psychology and Early Childhood at the University - is studying precisely what effect the wearing of masks might have had in terms of a child's language and communication skills.
The research team - lead by Dr Belen Lopez-Perez, Senior Lecturer in Psychology, Dr Jamie Lingwood, Lecturer in Psychology, Dr Tom Gallagher-Mitchell, Lecturer in Psychology and Dr Lorna Bourke, Psychology Undergraduate Programme Lead - will focus on youngsters aged between 4 and 8 years old.
The group is also looking for new volunteers to enter the study and become little research assistants.
Dr Bourke says: "We are inviting families to the ChildLab at Hope to take part in a study looking at the effect of face masks on children's language and communication skills.
"Children will complete two computerised tasks, looking at language and emotion, and two non-computerised language tasks. The participating parent will also complete a questionnaire.
"And as a small thank you for participating, families will receive a £10 Amazon e-voucher - while every child will also receive a 'Young Scientist' certificate."
Any families interested in taking part, or for more information, should email Dr Belen Lopez-Perez or Dr Jamie Lingwood at childlab@hope.ac.uk using the reference 'Face Mask Study'.
It's not the only coronavirus-related piece of research to emerge from Hope's ChildLab.
Further, ongoing research will also examine the psychological impact on children, young people and their families as they experience changes to their educational experiences, as well as the effects of home-schooling on teachers and parents during the Covid-19 pandemic.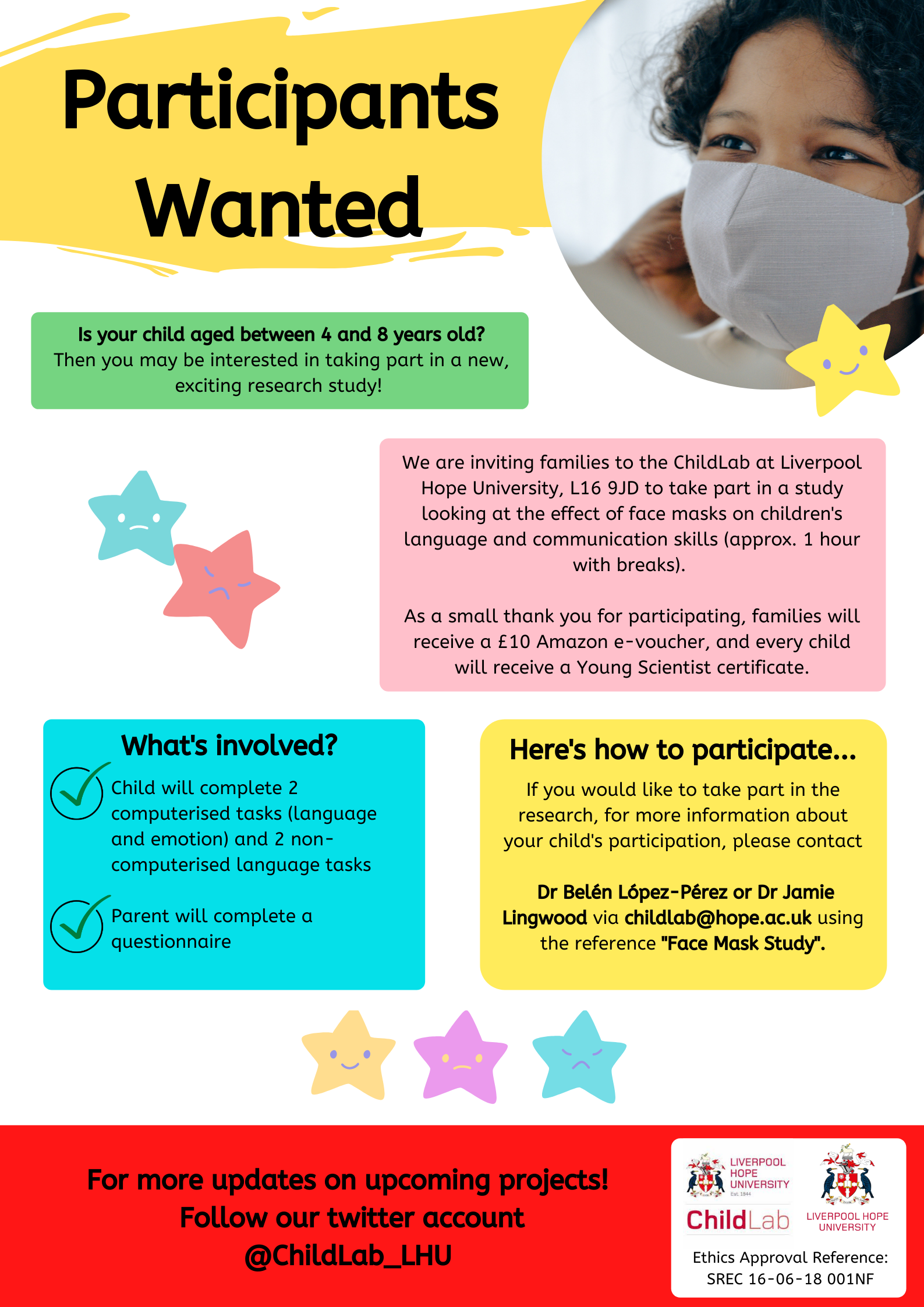 ** You can keep you to date with the ChildLab by visiting their Twitter page @ChildLab_LHU