Liverpool Hope University is launching an exciting new art competition - with some unique prizes to be won.
The Big City Art Challenge is being unveiled by Hope's newly-formed Community Engagement Team, details of which you can find .
And both young and old are being invited to submit a work of art which represents that person's hopes and dreams for the future, as well as what makes them truly happy - in order to spread some cheer as the nation emerges from the grips of a pandemic.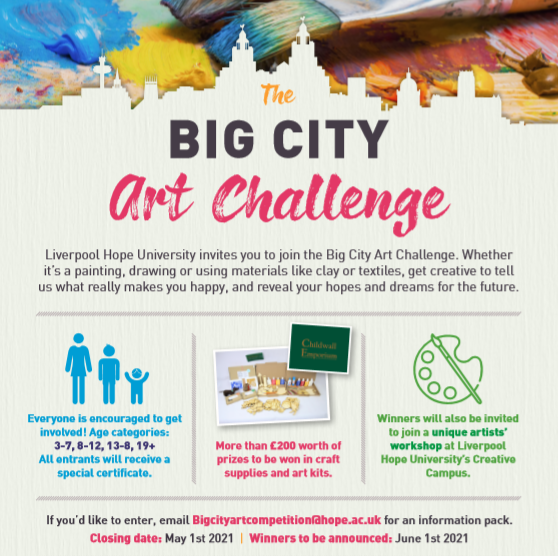 The competition is open to all, with age categories beginning in the 3-7 year old age range.
Meanwhile there's a host of prizes available in each age category, from craft supplies to art kits, while winners will also be invited to Hope's famous Creative Campus to spend a day attending a unique and one-off artists' workshop.
Dione Roye, a student at Hope and member of the Community Engagement Team, says: "The past twelve months have been unprecedented for us all.
"But as we begin to emerge from the pandemic with renewed optimism, we hope this competition is an opportunity to showcase the city's creative energy and positivity in the face of adversity.
"Whether it's a painting, drawing or using materials like clay or textiles, get creative to tell us what really makes you happy, and reveal your hopes and dreams for the future."
To enter, simply email Bigcityartcompetition@hope.ac.uk and you'll be sent an information pack with further instructions.
Closing date for entries is May 1st 2021, 5pm, while winners will be announced on June 1st.
All entrants, no matter where they place, will receive a certificate. And judging will be completed by an independent panel of experts.
The Community Engagement Team itself is committed to coordinating, co-producing and supporting a wide variety of community-based projects - whether it's a charity fundraiser or an initiative or event in the city where volunteers are needed.
And another key part of the group's remit is in creating opportunities for people to connect, share skills, find friendships and gain support.
Lisa Mottram, Data Analyst at Hope and also part of the Community Engagement team, adds: "The Big City Art Challenge is about connecting people from all walks of life, from across Liverpool, with the shared goal of spreading a little happiness and joy after so many months of difficulty and tragedy.
"We can't wait to see what submissions we receive."
For further information email Bigcityartcompetition@hope.ac.uk
** Hope's Community Engagement Team would like to offer special thanks to the Childwall Emporium store for helping to source the competition prizes.