Liverpool Hope University has been nominated for a prestigious award in recognition of its commitment to student employability.
The inaugural Innovation in Business Awards is being organised by the Liverpool Chamber of Commerce and takes place on Thursday 18th November.
It's a new and unique event, designed to 'celebrate the spirit of innovation that has driven the recovery of many local businesses during the pandemic'.
Within each category, there will be a traditional award to an outstanding business in the field, alongside a special award for an innovator that has confronted and overcome the challenges of the past 18 months.
And Hope has been nominated for the 'Skills & Employability' prize, alongside organisations such as Everton in the Community, Leadership Through Sport & Business and flexible working champions Redwigwam.
Paul Cherpeau, chief executive of Liverpool Chamber, said: "We have received an incredibly high standard of nominations and we congratulate those businesses who have been shortlisted.
"The mix of nominees demonstrates the bustling diversity of organisations that are now based and prospering in the Liverpool city region. Innovation underpins everything at this year's awards, from separate prizes for innovation to the hybrid multi-venue event experience designed to maximise the comfort and safety of our guests."
Other gongs to be handed-out include the Responsible Business Award, the International Award, Young Person of the Year, Local Hero of the Year, and Business of the Year.
Hope's award nomination comes after the University was recently featured - and celebrated - in the Liverpool Chamber's official magazine Well Connected.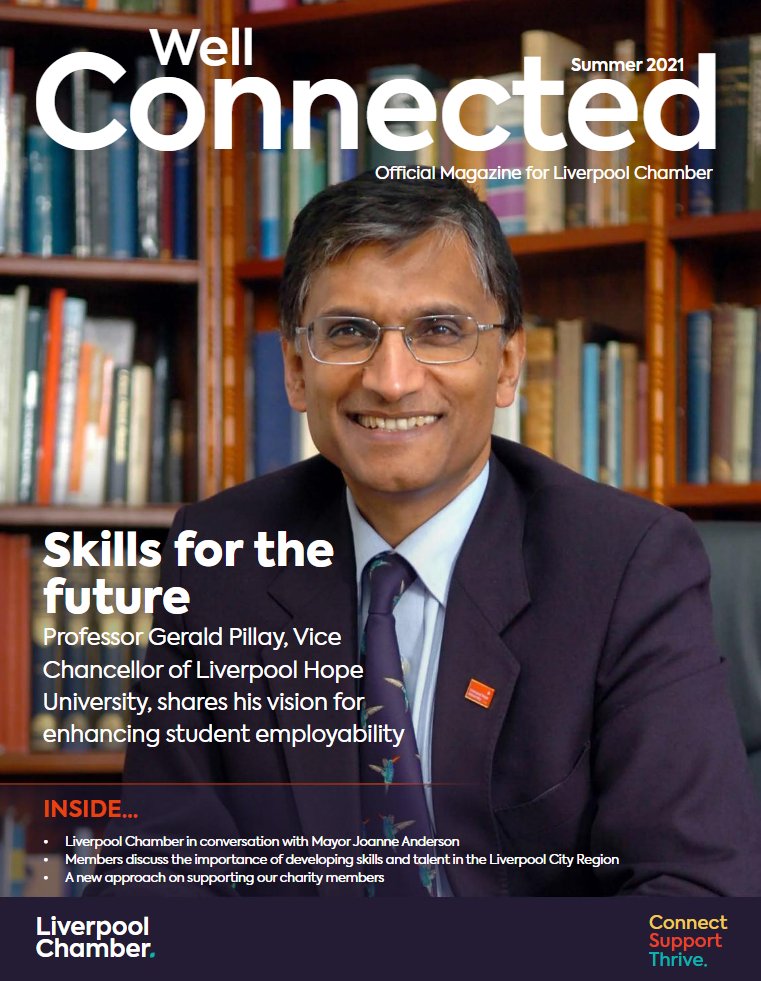 The article spoke of Hope's new 'vision' for enhancing student employability - which involves generating citizens who can contribute to the global economy, not just excel at passing exams.
Hope Rector and Vice-Chancellor Professor Gerald Pillay, said: "Just like Schools of Medicine need hospitals to form a doctor, and good Schools of Education need actual schools to form the teachers, a Business School needs partners in industry to form the future business leader. It can not be done in an ivory tower and it can not be done on our campus alone - as beautiful as it is.
"The next five to ten years are going to be centred on the recovery of our economy. Not only have we been hit by side-winds like Brexit, Covid then came and all of us had to rethink our positions.
"We've shrunk as an economy. It's going to take many years to build back better.
"So focussing on employability, and preparing our graduates to take their places in industry with confidence, is absolutely crucial, as is developing the professional know-how that will make them successful.
"We will facilitate a journey of self-exploration, societal engagement, gaining appropriate work and placement experiences to stimulate confidence, creativity and innovation."
The Innovation in Business Awards also sees nominations for one of Hope's partner organisations - the North West charity Nugent.
In January this year Hope joined forces with Nugent - who provide care, education, and protection to children, young people and vulnerable adults - to help usher-in a new generation of specialist social workers.
The collaboration will see the recruitment of three Social Work students every year to become dedicated Nugent trainees, who will then undertake a series of social work placements within Nugent's establishments.
Nugent CEO Normandie Wragg has been nominated for the Local Hero Award, while Nugent has also been nominated in the Business of the Year (Over 30 employees) category.
** Innovation in Business Awards winners will be decided by both a public vote and a judging panel. The poll is now open - and to register your vote visit: https://www.surveymonkey.co.uk/r/LiverpoolChamberAwards21