THESE enterprising Liverpool Hope University students are creating chocolate brownies - made from the 'upcycled' leftovers from commercial beer brewing.
And their eco-conscious efforts have seen them make the finals of a prestigious European competition.
Final year Nutrition students Esther Ghey, Caraigh McGuinness, Lydia Turner and Lucy McLean will represent Hope at the 'Ecotrophelia' competition in June, having been chosen as one of five teams of UK finalists.
The awards are organised by the Institute of Food Science & Technology in conjunction with food and drink industry experts Campden BRI.
The aim of the competition is for students to develop innovative, eco-friendly food and drink products.
And the Hope team - led by Dr Leo Stevenson, Senior Lecturer in Food Technology and Innovation - have turned their attention to spent Brewer's Grains, malted barley residue that typically makes up 85 per cent of traditional brewing waste.
Spent Brewer's Grains are used in agriculture as livestock feed.
But the Hope team struck on the novel idea they could swap flour for Brewer's Grains in the recipe for an environmentally-friendly chocolate orange snack - which they've christened 'Brewer's Brownies'.
Proud student Esther reveals: "I feel so lucky to be part of a fantastic team, and to have had the opportunity to develop our very own product from concept through to launch in the sophisticated facilities at Liverpool Hope University, which include modern kitchens and professional sensory booths.
"This experience has helped us to gain skills that will be useful not only in the food industry but also in other areas of work too."
Crucially, the goods have passed the all-important taste test, too, after being sampled during consumer and market research.
Dr Stevenson explains: "Entering this award is about exposing students to food product development techniques and skills are useful in the real-world food industry - and there are currently some interesting opportunities in this area, particularly for students with a Nutrition degree.
"The food product development process has been 'full on' for the students - involving market and consumer research; technical testing, such as food safety evaluation, shelf life, determination, labelling and packaging; as well as considering business elements such as costing and profitability.
"And the Ecotrophelia is a tough contest when it comes to being shortlisted.
"The Brewer's Brownies team have done an exceptional job, identifying a real upcycling niche, and they should all be proud of themselves."
The spent grain was donated to Hope by Maghull-based company Neptune Brewery.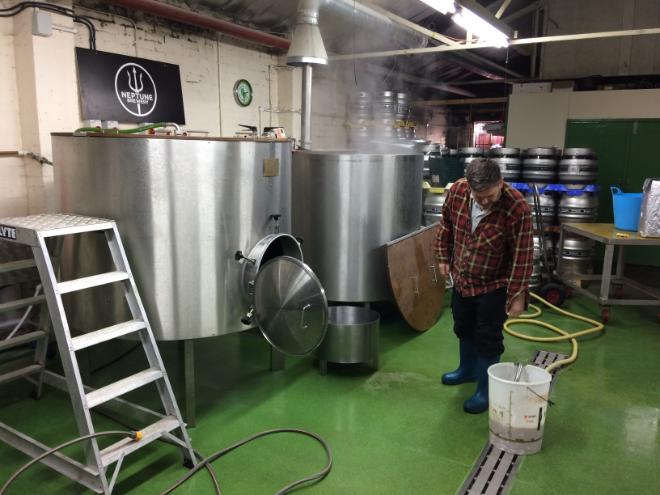 And it's not just in repurposing a waste product where the team scores brownie points.
Dr Stevenson also points out that the grains themselves improved the levels of health-promoting dietary fibre in this type of snack product.
Now the Hope squad must present their idea to a panel of 'dragons' if they're to make it beyond the UK stage and through to the European finals later this year.
The panel includes experts from industry heavyweights like PepsiCo, Coca-Cola, Marks & Spencer, Sainsbury's, Tesco, Unilever, Warburtons and Nestle.
Meanwhile they'll be up against three rival institutions - University of Reading, University of West London and the University of Nottingham, the latter of which has two separate teams in the UK finals.
Dr Stevenson adds: "This is the very first time Hope, as a University, has ever entered the Ecotrophelia competition. So to be shortlisted is a huge achievement.
"And it's significant for the University, too, in terms of being associated with food product development, and to be seen by the industry as one of the institutions to work with in the future.
"There's actually a skills shortage in the food product development sphere, which creates huge opportunities for our graduates, particularly when it comes to creating the healthy and sustainable food products of the future.
"The product itself is really tasty. The team are keen for the product not just to appeal to consumers interested in sustainable foods, but to have much wider appeal, and for their product to be considered as a good pub snack, to enjoy with a nice pint.
"And because you get different types of spent grain when you're brewing different types of beers and lagers, you could end up with a whole product range that matches the different colours and flavours found in beers and lagers - from a 'stout brownie' to a 'light pilsner brownie'."
You can read more about the competition here.