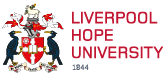 Dance and Musical Theatre BA
UCAS Code: RB21|Duration: 3 years|Full Time|Creative Campus
UCAS Campus Code: L46
Work placement opportunities|International students can apply
Study Dance in the heart of the city of Liverpool. Dance can be described as a fluid art form. It is constantly changing, exposed to different cultural contexts, bodily histories and physical disciplines, as well as being influenced by political and social movements. This degree aims to explore dance as a living practice and dynamic art form. You will consider how dance throughout eastern and western cultures has been cultivated through traditional training practices as well as more contemporary cultural influences.
Dance at Liverpool Hope looks at the bodies, techniques, performances and histories that make up dance practice today. The dance team are all professional practitioners and active researchers whose specialist skills map onto the diverse areas of dance history, dance technique, site-specific choreography, multicultural dance and somatic practice.
During your studies, you will have the opportunity to work alongside professional visiting choreographers and dance artists. You will perform for public audiences as well as develop a studio practice through one-to-one feedback and group seminars, including regular dance classes and workshops.
Here at Liverpool Hope we actively encourage students to consider their art form as an ethical and embodied practice, where we can confidently claim that dance is crucial to the worlds we decide to make.
Hear from student Frances Shephard about what it's like to study Dance at Hope.
For more details and information about this course visit:
Dance
Liverpool is a vibrant city, tapping into the momentum and energy of a diverse creative scene that stems from a long history as an international port city. Musical Theatre continues to play an integral role in its ever-changing theatrical landscape.
This degree allows the study of Musical Theatre from performative, as well as directorial/production points of view. With us, you will study the creative and conceptual interactions that exist between words, music and movement, that underpin the threefold performative relationships between music, dance and acting that communicate and express the art form of Musical Theatre.
You will explore core repertoire themes and historical context, and small-group practical seminars will allow you to develop dance and acting techniques. These will be underpinned by student-led tutorials and one-to-one singing lessons.
The course is led by a team of Musical Theatre specialists, who have first-hand production and performance experience - both in the West End and regional theatres - ensuring our students receive up-to-the-minute insights and guidance.
For more details and information about this course visit:
Musical Theatre