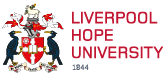 Drama and Musical Theatre BA
UCAS Code: RB30|Duration: 3 years|Full Time|Creative Campus
UCAS Campus Code: L46
Work placement opportunities|International students can apply
Explore performance in the heart of the city of Liverpool. Learn about the origins of drama and develop your skills in making new work.
Liverpool Hope's creative community is internationally renowned and world-leading in drama research and practice. You will develop your acting skills, your ability to facilitate drama sessions, as well as improving your critical writing skills. We make use of the many theatre venues in Liverpool, from the traditional Everyman/Playhouse to the experimental Tate Liverpool as well as our own Capstone Theatre, several well-equipped studio theatre spaces dedicated for student use, and our very own Hope Theatre Company – of which you could play a part.
Throughout your time at Liverpool Hope, you will be asked to explore drama in relation to your own skills and interests, helping you to understand the critical place of drama in the 21st-century. Our motto is to 'educate in the round', meaning you will develop transferrable social skills to take to future employers and make a difference in the workplace.
For more details and information about this course visit:
Drama
Liverpool is a vibrant city, tapping into the momentum and energy of a diverse creative scene that stems from a long history as an international port city. Musical Theatre continues to play an integral role in its ever-changing theatrical landscape.
This degree allows the study of Musical Theatre from performative, as well as directorial/production points of view. With us, you will study the creative and conceptual interactions that exist between words, music and movement, that underpin the threefold performative relationships between music, dance and acting that communicate and express the art form of Musical Theatre.
You will explore core repertoire themes and historical context, and small-group practical seminars will allow you to develop dance and acting techniques. These will be underpinned by student-led tutorials and one-to-one singing lessons.
The course is led by a team of Musical Theatre specialists, who have first-hand production and performance experience - both in the West End and regional theatres - ensuring our students receive up-to-the-minute insights and guidance.
For more details and information about this course visit:
Musical Theatre