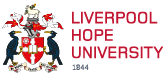 Supporting our Work
You can support the University to develop better resources, services and experiences for Hope students and staff.
Over recent years, Government funding for higher education has been cut significantly. This means that we rely more and more on external and philanthropic funding to be able to give our students the very best university experience that we think they deserve.
Liverpool Hope has a proud tradition of philanthropy with two of our founding colleges being established with large philanthropic donations.
Donate to 'A Brighter Hope'
The Alumni Office is currently raising funds for a range of initiatives. A brief description of each is provided below but if you require further information please contact the Alumni Office directly. If you would like to support Liverpool Hope, please visit our online donations page. Alternatively please complete the Donation Form and return it to the Alumni and Development team or telephone +44 (0) 151 291 3219.
You can support current students to succeed at Liverpool Hope by supporting A Brighter Hope and the following funds:
Student Scholarships
These are non-refundable sums of money paid to a student in each year of their course of study and can be awarded to undergraduate or postgraduate students. Awards start from £500 per year. 'A Brighter Hope' has contributed over £100,000 to the Student Scholarship programme. You can make a gift to the Scholarship Fund via our online store.
Sheppard-Worlock Library
The Library buys thousands of new books per year with costs ranging from a few pounds to hundreds of pounds per book. Through A Brighter Hope, supporters can donate £30 which is often enough to buy a book. Larger donations can fund the stands the library uses to display valuable reference books or even contribute towards the collections themselves. You can make a gift to the Sheppard-Worlock Library via our online store.
Global Hope
This is the umbrella term given to Liverpool Hope University's overseas charitable development work. Over the years, Hope students and staff have been able to support a range of educational communities in locations as diverse as India, Sri Lanka, Nigeria, Malawi, South Africa, Brazil, Romania and Uganda. These valuable projects cost anything up to £10,000 each. You can make a gift to support Global Hope projects via our online store.
Making the Most of your gift (UK taxpayers only)
If you are a UK Tax payer and meet the requirements set out below, Liverpool Hope University will be able to reclaim the basic rate of
tax paid on your gift, increasing its value by almost one third at no extra cost to you. If you wish to make your gift tax effective in this way,
please read the following declaration and if it applies to you, please check the box on the Online Store donation pages listed above when making your donation.

I confirm I have paid or will pay an amount of income tax and/or capital gains tax for each year (6 April-5 April) that is at least equal to the
amount of tax that all charities or Community Amateur Sports Clubs (CASCs) that I donate to will reclaim on my gifts for that tax year. I
understand that other taxes such as VAT and Council Tax do not qualify. I understand the charity will reclaim 28p of tax on every £1 that I
gave up to 5 April 2008 and will reclaim 25p of tax on every £1 on or after 6 April 2008.