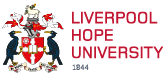 Give your time
Have you considered giving your time to support our students at Liverpool Hope?
Our alumni bring stories of challenges overcome, networking practices developed, success and failure within the job market. They bring credible, well-informed voices reflecting on their own experiences of balancing study, completing assessments, crafting research problems and delivering a dissertation against the numerous demands of a final year. Certainly, alumni who have been in graduate roles for several years, even decades, bring insights and inspiration related to the workplace.
We welcome the support of our alumni in mentoring a current student, delivering a careers talk or writing a careers case study that we can share with students.

2020 has changed the way we interact as society and we welcome the opportunities that have opened up to us with the increase in video conferencing usage. We hope this will make alumni engagement with our students more accessible. Even beyond this pandemic it will be a useful tool in connecting alumni from around the world with our Hope students.
Why volunteer?
Giving your time to Liverpool Hope University is a great way to reconnect with an environment which was part of your journey into your working life. Whether you can offer 30 minutes or 30 hours, your time will make a positive difference.
Skills and development
Develop your skills and enhance your CV
Boost your personal and professional development
Network with alumni globally and reconnect with the University
Make an impact
Share your skills, experience and advice
Inspire others
Help students to reach their full potential