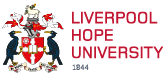 Why choose Hope?
So, you've heard back from all of the universities you applied to? And now you're in the process of trying to decide which one will come out on top.
We understand that this is a tough decision, so we've put together a few key reasons why should you choose Hope.
You can also find out more information in our Student guide to living in Liverpool.
Small, friendly atmosphere

Hope is a place where everyone knows each other by name. Our well-equipped smaller campuses mean that it's easier for you to get to know people and no-one gets lost in the crowd! There are also lots of events and societies for you to get involved in.
Our values

We are proud of our rich heritage but we are not stuck in the past. We combine the best of our history with contemporary and innovative thinking to provide you with a dynamic and caring university experience that looks to your future.
Employment and learning opportunities
We offer a wide range of single and combined honours degrees so that you can choose a course suitable for you and the career you want to pursue. Our Employability Hub can help you find part-time work while you are studying and provide career advice when, and even after, you leave.
Student support
We get to know you as individuals so that we can help you to develop skills and interests outside of your study area. At Liverpool Hope, you will be part of a great community that provides help and support to make sure you get the best from university life. There is a reason we came first in the North West for student experience!
Beautiful campuses

Imagine studying in a place full of beautiful green spaces, lovely old buildings, but still having state-of-the-art facilities. You can have it all at Hope!
Hope Park combines beautifully maintained gardens and green spaces for you to relax, with modern, contemporary facilities for sport, research and studying. Where else would you get to wave at a squirrel whilst taking a break in-between lectures? What's more, Hope Park is only down the road from the emerging cultural hub that is Smithdown Road, and a short bus ride away from town.
The recently refurbished Creative Campus features a number of amazing spaces for you to create and develop, alongside beautiful grade II listing buildings, all just up the road from Liverpool city centre.