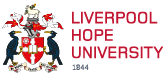 Access after leaving the University
Students
If you do not complete your course, access to all services will be removed on the date of leaving (unless you are involved in an appeal process)
Once you have completed your course:
you will retain access to your University e-mail account. If you do not access the account for a 12 month period, the account will be suspended (no data will be removed) and the account can be reinstated on demand. If the account is not accessed for 2 years, it will be deleted and all the data removed irretrievably.
Access to all other services will remain for 6 months and will then be removed (E.G. MyHope, Moodle etc)
Please ensure that you save any work or files you may need before you finish your course.
Staff
When your employment with the University ends, access to all network services will be removed immediately.
With regard to your e-mail account:
if you leave after a period of notice, the account will be suspended on the date of leaving
if you leave without a period of notice, the account will be suspended on the date of leaving and future access will be provided on a supervised basis
if an extension to access is required, it will normally only be granted for 2 weeks
any extension will need the approval of a USET member
once a suspended account has not been accessed for 2 years, the account will be deleted and all the data removed