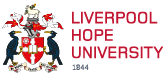 Guest accommodation
The University has a number of rooms available for your friends and family to stay in when they come to visit.
If you're planning for a visit, you can contact the accommodation office in advance to apply for a guest room on the campus where your halls of residence are located (subject to availability).
Cost per room, per night:
Single £24
Double/twin £36
As well as the student guest bedrooms we also offer the guest accommodation below.
Please note that our guest accommodation is for the sole use of University staff, students, faculty/academic visitors and only members of the general public that are attending an event at the university.
EDEN Suite
The EDEN Suite is located in the EDEN building on our Hope Park campus and boasts 17 en-suite double bedrooms, including one suitable for disabled guests.
Furnished in a contemporary and stylish manner, each room is equipped with a flat screen television, complimentary tea/coffee making facilities, and linen and towels. Complimentary toiletries are also provided to enhance your stay. All rooms offer free wireless internet and are available year-round.
If you choose to stay on a Bed and Breakfast basis, you can enjoy your breakfast in Fresh Hope.
Please note: breakfast is available at an additional cost and subject to availability.
Cost per room, per night:
Room only: £52.50 + VAT per night, for stays seven nights and over discounts are available
For booking, please email guestbookings@hope.ac.uk
Apartments
The Green Lane Annex apartments offer guests a comfortable 'home from home'. All apartments have a double bedroom with shower room, plus a lounge with flat screen television, free wireless internet access and a fully equipped kitchen. The apartments are both situated on the ground floor with level access but are not adapted to mobility standards.
Cost per apartment, per night:
£85.00 + VAT
Discounts available for says of seven days and over. Please contact us for further information.
For booking, please email guestbookings@hope.ac.uk
Taggart Lodge
We have four guest suites at Taggart Lodge, which is a beautiful detached building conveniently situated next to the Hilda Constance Allen building at Hope Park. Each interior-designed suite is completely self-contained, consisting of a lounge, bedroom and shower room, plus tea/coffee making facilities.
The suites offer guests a well-appointed and private base in which to relax or work. The comfortable double bedrooms are decorated in subtle colours and include a study area with wireless internet access. The lounge offers a place to relax and watch TV at the end of the day.
The two ground floor suites have separate entrance doors, but an interconnecting internal door can be unlocked to provide a two bedroom unit for groups.
Cost per suite, per night:
Room only: £60.00 + VAT
For stays seven nights and over discounts are available.
For booking, please email guestbookings@hope.ac.uk