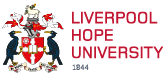 Business Management and English Literature (BA)
UCAS Code: BM03|Duration: 3 years|Full Time|Hope Park
UCAS Campus Code: L46
Work placement opportunities|International students can apply
The world of Business Management is fast-moving and dynamic: Business organisations are facing unprecedented change and complex challenges both within the UK and globally. This demands that students who enter the business sector understand the dynamics of the business environment and how organisations operate in increasingly uncertain situations. The Business Management degree at Liverpool Hope University examines small to medium-sized enterprises to global multi-national companies – public, private, not-for-profit with a focus on business principles, organisational dynamics and management processes.
Liverpool Hope Business School holds the prestigious AACSB accreditation and has an enviable reputation for developing students with sound theoretical principles, thorough understanding of contemporary business practices and informed by the latest research. The links we have with local and national businesses, plus links with professional bodies, ensure you are well prepared for the world of work.
This in-depth degree gives you the opportunity to understand how businesses operate and the ethical and social impact they have on communities. An experienced, student-focused team will develop your understanding of this business context and develop the critical business skills and transferable skills that future employers will demand.
A unique feature of our Business Management programme is that all second year students take part in the YE (Young Enterprise) programme. This is the integrating element for the second year, which stitches together all the parts of the curriculum. Every student is allocated to a business start-up team, where they work in a group to set up and run a legal new business venture. Thus, it provides students with practical experience of the process of starting a 'real life' business. Many students comment that YE was the favourite and most valuable aspect of their degree in Business Management.
For more details and information about this course visit:
Business Management
Study English Literature at Liverpool Hope University and you will explore a wide range of literature as well as the history, ideas, people and places that shape it and are shaped by it. Throughout our course, we emphasise how literary texts address and influence the most important issues facing society today. We place an emphasis on sustainability and the environment, on work and employability, on travel and global perspectives, and on health, happiness and well-being. Key features of our course include a focus on publishing and the digital humanities, the exploration of the relationship between literature and the natural world, working with rare books and manuscripts from our library's large Special Collections and Archives, and also going on a range of field trips.
During your three years of study, you will gain a sound grasp of the contexts and approaches within which English literature can be studied, as well as gaining a sense of developments across periods of English literature. You also develop a critical appreciation of the ways in which knowledge of other disciplines and their relationships to English literature can contribute to a deeper understanding of literary texts.
The academic staff teaching the degree have research expertise in a broad range of fields, from late medieval to contemporary literature. We pride ourselves on offering a challenging and stimulating degree, and our commitment to small group teaching allows us to help each individual student to develop sophisticated analytical and communication skills through working both independently and in groups. We not only strive to support you in the pursuit of academic excellence but also help you to explore your wide range of options after university through a focus on the diverse skills you will develop and the many sectors that will welcome you as an English Literature graduate.
For more details and information about this course visit:
English Literature