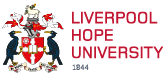 Creative Writing and Psychology BA (Hons) (with Foundation Year)
UCAS Code: C279|Duration: 4 years|Full Time|Hope Park
UCAS Campus Code: L46
Work placement opportunities|International students can apply
Creative Writing at Liverpool Hope will give you the chance to experience the joys of crafting the written word. The degree focuses on developing you as a writer of poetry and prose (fiction and creative non-fiction), across the broad field of literature (poems, short stories, novels, reflective and critical essays). Professional writing - reviews, blogs and articles for different kinds of media - is also studied. Our focus on creativity and employability means you will be able to produce engaging, innovative and marketable texts.
By studying Creative Writing, you will be empowered with an enhanced command of your craft, increased confidence in expressing your thoughts and emotions, an understanding of the values that inform your writing practice, and the technical skillset to deliver your work to various audiences. Your writing will be enhanced by studying under leading published writers and academics, and you will develop a range of workplace skills to prepare for fulfilling careers.
The degree will often challenge you and ask you to reach beyond your own experience and interests into those of contemporary and historical communities. Using these as creative stimuli, you will be required to reflect upon social contexts, power, and how truth and justice can be communicated or miscommunicated through creative writing. By the end of the degree, you should have a wide appreciation of forms, genres and applications. Included in the degree are field trips which provide material for writing exercises as well as widening your student experience.
For more details and information about this course visit:
Creative Writing
We provide a number of programmes of study in Psychology. In addition to two Single Honours programmes - BSc Psychology, BSc Sports Psychology - we offer a suite of Combined Honours programmes. Combined Honours programmes allow students to combine the core curriculum in Psychology with the core curriculum of many other subjects taught at Liverpool Hope (e.g, Psychology and Criminology, Psychology and Marketing: see the list below for the full range of Psychology Combined Honours courses). Giving our students different options is important to us, and providing a choice of studying Psychology alone or Psychology alongside over thirty other disciplines means students can choose to study Psychology in a way that matches their interests.
Ethical practice and working within a shared set of values is also important to us; our University is committed to serving the common good. We see Psychology as a discipline with the capacity; and responsibility; to make a positive contribution to how people live in everyday life. Through our teaching of Psychology, we strive to enable our students to grow into constructive citizens who are curious about people, and motivated to make a positive difference to the lives of others. Beyond classroom learning, there are opportunities to enrich your chosen programme of study in a way that will help you in developing your psychological thinking. They include going on a placement year, working as a research assistant in a laboratory, travelling to another country as part of Global Hope, or studying abroad.
Our enthusiasm for the discipline is reflected in our consistently high ratings of teaching quality. If our departmental narrative matches with what you aspire to be, then come and study with us at Liverpool Hope University.
For more details and information about this course visit:
Psychology